By Shenron on Nov 07, 2007 with Comments 5
---
Car lifts are extremely practical and can help car mechanics work on vehicles, home owner's store their vehicles or car collectors show off their vehicles. There are plenty of different types of car lifts on the market today and each type usually benefits a specific use. If you are interested in purchasing a car lift, here are some tips.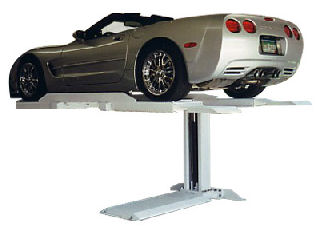 Types of Car Lifts Available
There are easily 10 or more types of car lifts available on the market today; however here is a quick summary of the most common car lifts available and what they are used more often for:
2 post car lift kits are one of the more popular car lifts used for amateur mechanics. A 2 post car lift kits usually fits easily in most garages, is relatively easy to put together and is quite practical to do minor and major mechanical work from changing the oil to changing an engine.
4 post car lift kits are usually heavy duty lifts perfect for long term storage of an automobile, perfect for amateur mechanics and even a great way to show off antique or showroom vehicles.
A scissor car lift is mostly used by amateur and professional mechanics in order to get underneath the vehicle and perform service. These lifts are generally not used for storage due to their scissor design that utilizes the space underneath the center of the vehicle.
Used car lifts are a great way to store a vehicle or work on a vehicle while saving close to 50% off the sticker price of a new car lift. Since car lifts are extremely sturdy and easily last for years, for many home mechanics and vehicle owners, a used car list is a great way to save.
Hydraulic car lifts are lifts that rise and lower using the power of hydraulics. A hydraulic car lift uses special liquids, pumps and cylinders to easily, reliably and safely lift and lower your vehicle. These lifts are perfect for those that require frequent raising and lowering of their car lift.
Electric/Hydraulic car lifts is a term for used synonymously with Hydraulic car lifts. Since pretty much all hydraulic car lifts also have an electric powered component- usually to power the unit and run the pumps. These car lifts are perfect for frequent use and mostly used either by professional mechanics, serious amateur mechanics and professional vehicle storage services.
Mechanical car lifts do not use hydraulics to lift the vehicle up. Instead they focus on mechanical methods such as using wrenches and screws to lift the vehicle. Because electric/hydraulic lifts are extremely affordable, mechanical car lifts are usually not as popular.
Garage car lifts are made especially to fit indoors. These garage car lifts usually have a low overhead and are made for storage of 2 vehicles- one vehicle on top of another. Since clearance is an issue, the car lift is usually set very low to the ground and has the capability to reliably store a vehicle only inches from a vehicle set below it.
Showcase car lift systems are specifically used to showcase antique, show cars or other vehicles either in a home environment or commercial environment (such as a car dealership, car convention, car show, etc).
Filed Under: General
Comments (5)