By Justin on Oct 15, 2008 with Comments 1
---
Two words that make any car tuning enthusiast smile is SLR and McLaren and while both create their own masterpieces, recently, a new Mercedes SLR McLaren 722 S super car has been developed.  Like all super cars don't expect them to be cheap or to be mass produced.  In fact, in this case, Mercedes will only make about 150 units of the Mercedes SLR McLaren 722 S.  However even in their small number they are sure to have a definite impact in the super car arena.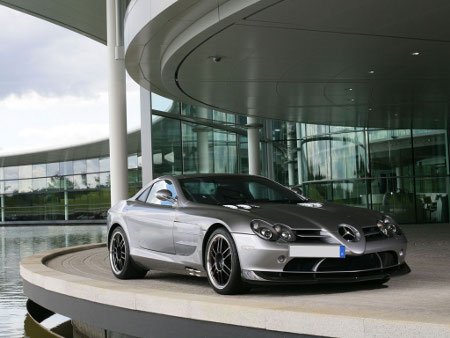 The Tech Specs of the Mercedes SLR McLaren 722 S
For this super car expect McLaren and Mercedes engineers to go all out.  This SLR super car will feature a retractable soft top that is specially engineered for high speeds and with this car, expect to go fast, real fast.  This bad boy offers a 650 horsepower 5.8 liter V8 engine which is able to accelerate from 0 to 60 in about 3.7 seconds.  For a top speed, the Mercedes SLR McLaren 722 S crosses the super car high speed threshold to reach a very impressive 201 mph.
Plenty of Engineering Refinements from Mercedes
Besides having a huge powerhouse that pushes the envelope, there are plenty of refinements to making this SLR a comfortable vehicle to drive at normal speeds and at extreme super car speeds.  Besides a dynamic suspension set up and a wide range of aerodynamic improvements, the retractable soft top itself has many refinements such as an aluminum cap to strengthen the soft top at higher speeds  (speeds over 120 mph) and a cabin that is surprisingly quiet enough to conduct a conversation with the top down.
So how much for this bad boy, well, the Mercedes SLR McLaren 772 S will be sold in limited quantities (only 150 units as stated above) for the price of about $750,000.
Further Readings:
Filed Under: General
Comments (1)
Leave a Reply
You must be logged in to post a comment.