By Justin on Nov 12, 2008 with Comments 0
---
The Toyota Scion is one of the most hip cars available today and it now is also one of the most reliable on the road.  For those car tuning enthusiasts that like plenty of space, a vehicle that is unique in its own right and finally a vehicle that is budget friendly, the Toyota Scion is definite buy.  The Scion comes in three different levels: the xB, TC and xD.
Scion xB
The Scion xB is a boxy, but bold vehicle.  It offers a 2.4l 158 horsepower DOHC engine.  It also offers a standard transmission or automatic and front wheel drive.  Inside, you get a whole bunch of options and features making this vehicle pretty comfy for cruising.  It should also be noted that you can easily customize the Scion xB either with the help of Scion or aftermarket products.  The Scion xB gets about 28 mpg on the highway.
Scion TC
While the xB offers boxy and bold styling, this vehicle is a nice looking coupe with a panoramic sunroof, 2.4 liter engine, 17 inch alloy wheels and a base price of about $18K.  Instead of 158 hp of the xB, the TC offers 3 more horses making it 161 hp.  It should also be noted that you also get decent gas mileage- not great, but decent at 21 mpg in the city and 29 on the highway.
Scion xD
The Scion xD is the budget version of the xB, but it offers very nice features to compensate for its low base price of about $15K.  The xD has a smaller engine that the other two trims- 1.8 liter that delivers 128 horses, but fuel economy is good coming in at about 33 mpg on the highway.  While this Scion does have a boxy shape to it, it still looks great and is quite similar to the xB.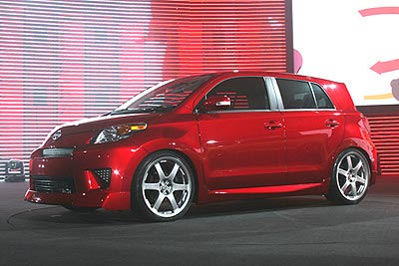 Filed Under: General
Comments (0)
Leave a Reply
You must be logged in to post a comment.