By Justin on Oct 31, 2008 with Comments 0
---
Obviously, one of the most trusted names in exotic cars is Ferrari. Ferrari for decades has created one masterpiece after another.  While many of the cars that Ferrari creates are quite fast and look great, many focus on high performance and handling rather than incredible speed.  However, one car that Ferrari recently created is a speed demon and considered to be the fastest Ferrari ever produced- the Ferrari Enzo.
Tech Specs
While many purists might not like the shape of this vehicle, its body was created for extreme control at top speeds.  Ferrari created only 400 of these vehicles which came to market in 2003 and 2004.  They each come with a monster power plant that delivers 660 horsepower from a V12.  The Speed of this demon is a shocking 218 mph and besides an incredible top speed, also offers acceleration beyond most enthusiast's comprehension- 0 to 60 in about 3.3 seconds.
The Enzo offers a six speed clutchless sequential manual transmission and offers the feature of steering wheel paddle shifters.  The cost of this beauty- $650K, choice of colors includes red, yellow and black and only 100 ever made it to the states.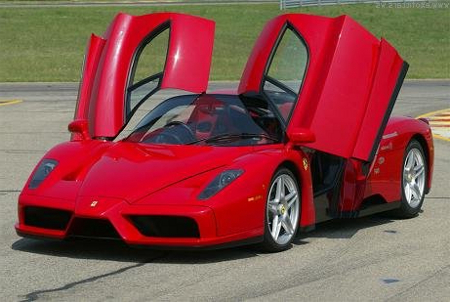 The Ferrari Enzo is a car unlike most others in that it utilized cutting edge technology to ensure that at high speeds, this vehicle stuck to the road.  It is designed to have enough down force to stick to the road and since the vehicle employs spoilers, as well as movable foils as your speed increases, so does the aerodynamics of this vehicle.  The vehicle itself is made from high tech carbon fiber and a material called Nomax.  For those looking for the fastest Ferrari ever made, the Ferrari Enzo is possibly the one that tops the list.
Further Readings:
Filed Under: General
Comments (0)
Leave a Reply
You must be logged in to post a comment.