By Justin on Oct 22, 2008 with Comments 0
---
For years, auto enthusiasts have seen quite a few electric vehicles come out- most of them extremely small with weird styling cues and by companies that are unknown and lack financing. While most car enthusiasts agree- all companies and cars are welcome to make an electric car a reality, one car and one company sat on the sidelines when they should have been leading the effort who you might ask- BMW and their Mini Cooper.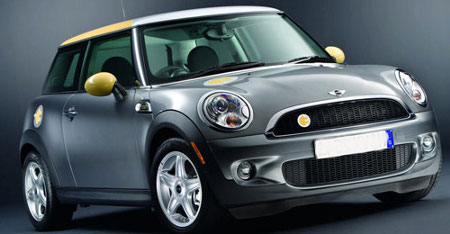 The Mini Finally Goes Electric
Anyone that has seen these tiny, very stylish and trendy cars has probably asked themselves, why not this car for an electric? It's extremely small, lightweight and has the engineering powerhouse of BMW backing it. Well, your wish has come true- the Mini Cooper is coming out as an E-plug car as early as 2009.
Mini E
While BMW has plenty of projects with alternative energy vehicles, this will be their first product for the US. The Mini E will be sold in limited quantities- about 500 for the 2009 model year. They will be available for sale in only 3 states: California, New York and New Jersey.
Tech Specs of the Mini E
It looks like the Mini E will definitely not disappoint. The car will featured a powerful motor getting about 204 horsepower and offering decent acceleration from 0 to 60 in about 8.5 seconds. The top speed is slow for those looking to take this baby on the autobahn, but at 95 mph, it will be just fine for American roads. Here is the real surprise, with a full battery charge, expect the Mini E to get a fantastic 150 miles, which is much more that practically any other electric plug in is expected to get. For instance the Chevy Volt is only expected to get about 40 miles on a full charge.
The Mini E will use lithium-ion batteries and these batteries will take up plenty of room in the Mini- good bye back seat. The weight for the new Mini E will also increase to about 3,200 pounds, about 700 pounds more than the gas powered version. However, charging the Mini E using a special charging adapter at one's home will be quite quick at only 2.5 hours. It should be noted that a driver can use a standard wall socket- but this will increase the charging time. Right now no price has been set, but if the US government offers a tax credit, this vehicle may be in the range of a lot of car buyer's budgets.
Filed Under: General
Comments (0)
Leave a Reply
You must be logged in to post a comment.