By Shenron on Nov 05, 2007 with Comments 0
---
Nissan has just announced its new super car, the Nissan GT-R (expected in 2009)
This permanent 4WD will surely make the wonders of the drivers. The Nissan GT-R equips with a 3.8 litre Twin Turbo V6 engine with 480 hp (353 kW) , and a lot of new features, like the carbon fiber and aluminium body structure, the Brembo disc brakes and a GR6 dual-clutch six-speed automatic transmission.
As a curiosity, each engine is hand assembled by an engineer of the Yokohama Nissan factory, which may help justifying the $80,000 base price.
Nissan announces that the GT-R will accelerate from 0 to 60 mph in 3.5 seconds, will finish the quarter-mile in 11.7 secs and reach a top speed of 192 mph!
We'll try to find more details about the new Nissan GT-R, for now we've accessed a couple of pictures we'd like to leave you with.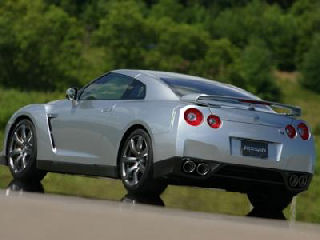 Further Readings:
Filed Under: General
Comments (0)
Leave a Reply
You must be logged in to post a comment.