By arman on Jul 16, 2010 with Comments 0
---
This the latest tuning package for BMW X6 from G-Power, and it breaks all boundaries!
Honestly it looks like there's no limit for them. Just check out these numbers: 900 hp, 860 Nm of torque, top speed 330 km/h and price 675,000 euros.
This Typhoon RD BMW X6M is a super special one, and it shows with that massive body kit and huge 2-inch wheels. The term ultimate really suits this car.
The body is staggering, but it's nothing compared to the engine they've put in the car! It's the same they used for G-Power M5 Hurricane RR, which now develops a unbelievable 900 hp and 860 Nm of torque. That means you can go from 0 to 100 km/h in 4.2 seconds.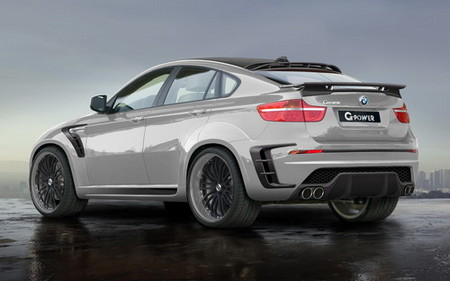 The interior of the car is very special as well, with four individual seats and full carbon treatment. But it's limited to only 5 units so if you want one you better hurry!
Further Readings:
Filed Under: Tuning
Comments (0)
Leave a Reply
You must be logged in to post a comment.