By Shenron on Jun 03, 2008 with Comments 0
---
Today, computers are a part of almost all aspects of our daily life and this includes cars. Technology has changed the ways drivers operate their cars. Generally speaking, there are two types of car computers. The first are categorized as ECU (electronic control units). These small computers run many parts of our engine and other major components of vehicles. They are used to control the amount of fuel to air mixture, the changing of gears, emissions, electronics in the cabin, report problems and many more important functions. The second major category of car computers are the ones in the vehicle that individuals directly interact with. These can be media devices, GPS devices, etc.
ECU (Electronic Control Unit)
Many tuning enthusiasts that try to get their vehicles to achieve ultimate performance are well aware of the important part that the ECU plays in a vehicle. Today, there can be several different modules in a vehicle; however the ECU usually plays a huge role in the way your vehicle performs. Most vehicles are designed to perform optimally. Parameters for the ECU are usually set at the factory ensuring that your car gets good gas mileage, releases a low amount of emissions and offers plenty of horsepower and torque when needed. However, for those looking to achieve the highest level of performance, you can easily access the ECU or change the car computer altogether-enhancing performance such as horsepower and fuel mileage. Replacing an ECU module is normally inexpensive, costing as little as $10 and it could take only a couple of minutes to swap.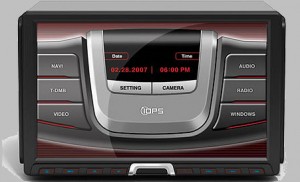 OBD (On Board Diagnostics)
Another module considered by many as a car computer is called an OBD (on board diagnostics). This computer constantly monitors your vehicle and if it detects a problem, it alerts the driver (usually via the check engine light on your dashboard). When your vehicle shows a check engine light, you usually take it to a mechanic that reads the error code with an OBD II computer reader. A simple code can help a mechanic know what is malfunctioning and fix your vehicle quickly and conveniently.
Media Car Computers
Many people that think of car computers think of media devices that are integrated into their vehicle. With the advent of cheaper and faster performing computers, more car manufacturers are offering car computers in new vehicles. In addition, car computer after market products are available for only a few hundred dollars that can be added to almost any vehicle on the road. Here are just some of the car computers found in today's vehicles.
Audio/MP3 Players
One of the most popular options in a car today is a good audio system and since today's music is mostly digital this includes mp3 players, adapters and integrated audio systems that use computer chips. Whether your car has an mp3 player built in that can read digital music off a CD, an iPod port or a USB port/adapter, digital music made possible by car computers are a popular feature.
Video Players
Since the 1950's people dreamed about the possibility of watching TV while they ride in their car. Well, today this option is not only a possibility, but one of the most popular options in vehicles. Today's vehicles can include a car computer that is able to play DVD video, games or even TV.
GPS
Getting around is easier than ever with car computer GPS systems. With a small screen and usually audio cues in the form of a voice, you can easily choose a starting point and destination and be told turn by turn how to get their. GPS car computers can be integrated within a media player or sold as an after market product.
Communications
Another technology that has benefited from car computers is communications. Today, many vehicles have integrated car computers that handle telephone calls. Either integrated or available after market products come with Bluetooth technology or other digital technologies that enable voice communication, SMS, email, etc.
Vehicle Information
While media car computers are extremely popular, with extremely high gas prices, efficiency is important as well. Many car manufacturers integrate car computers that offer vehicle information regarding fuel mileage, tire pressure, trip odometer, etc.
Filed Under: General
Comments (0)
Leave a Reply
You must be logged in to post a comment.