By Justin on Dec 12, 2008 with Comments 0
---
Aston Martin is of course the first choice for James Bond in many of his movies, but also an extremely stylish, refined and powerful vehicle.  While there are many exotic vehicles with plenty of brash and muscle to put Aston Martin to the sideline, Aston Martin continues to create vehicles that even though they are considered exotics are a little more milder and understated fitting quite a few personality types.  The Aston Martin V8 Vantage is no different.  The Vantage is a wonderful vehicle that offers a wealth of luxury, sport and nice lines.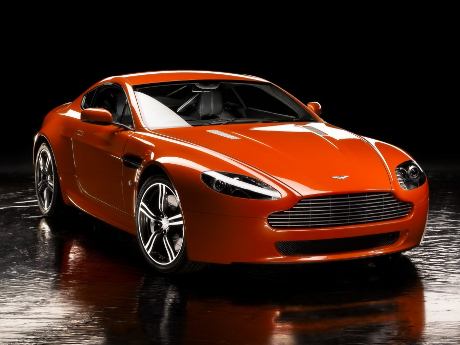 Under the Hood of the Aston Martin V8 Vantage
This V8 engine offers plenty of power.  The Vantage gives enthusiasts 420 horsepower and 470 lb ft of torque.  The engine is matched with a 6 speed manual transmission.  As far as speed is concerned, the Aston Martin Vantage is definitely an exotic.  Expect to break the 0 to 60 mph mark in less than 5 seconds flat (actually 4.7 seconds).  If you like going real fast, you will definitely get a thrill from the Vantage's top speed of 180 mph.  Other specs that enthusiasts should note are the wonderful 19 inch wheels (Bridgestone Portenzas) and a nice suspension with double wishbone to give drivers a no nonsense vehicle that eats corners for breakfast.
Inside the Vantage
The Vantage is not only beautiful on the outside, but also is very enjoyable once inside the cabin.  One thing to note is a counter clockwise RPM gauge.  Other than that, the interior is quite comfortable offers a great sound system, supple leather and an informative dash.  Besides being very sporty, there are plenty of luxury options available and the list is much too long to list.  Taken as a whole, the Vantage is definitely a winner.
Further Readings:
Filed Under: General
Comments (0)
Leave a Reply
You must be logged in to post a comment.