By Justin on Nov 28, 2008 with Comments 0
---
If you love the Mercedes brand and you are looking for a car with not only lots of power, but good lines, the 2009 Mercedes Benz SLK55 AMG is definitely a car that should get your attention.  The SLK55 AMG is packed to the brim with lots of power, luxuries and cutting edge technology.  It's incredible what this small car can do.
Big Things Come in Small Packages
The 2009 Mercedes Benz SLK55 AMG is quite small, How Small?  How about the size of a Mazda Miata, but it is packed to the brim with absolute power.  This car has a 5.5 liter V8 and boasts an incredible 355 horsepower and 376 lb ft of torque.  And while the SLK55 AMG has plenty of power to impress, it also backs up handling and control for even the most discriminate drivers.  However, even though this car has a very small size, it does weight very much.  In fact, for its size it comes in about 3,600 pounds.  However, even with a heavy weight, it is distributed pretty evenly- so it is well balanced.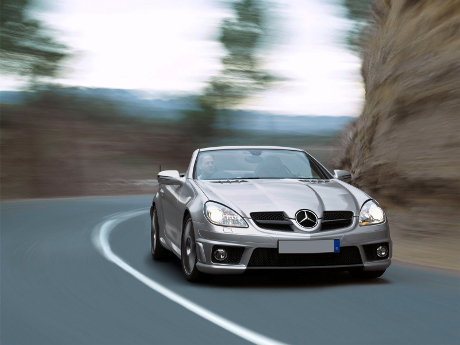 A Nice Sporty Package
While the badge of Mercedes is more than enough to get many enthusiasts to purchase this car, the SLK55 AMG definitely stands on its on merits.  It's fun to drive and has enormous amounts of power when you call upon it.  With rear wheel drive, most purists will find this vehicle very fun to drive, but even being an exceptionally made vehicle, it does have its downsides including slight under-steering in the slalom and since this vehicle is very heavy, when coming to a hard stop, you will feel the weight of the large V8 bring down the vehicle's front.  However, if you are looking for a very powerful roadster, the SLK55 AMG definitely delivers the thrills.
Further Readings:
Filed Under: General
Comments (0)
Leave a Reply
You must be logged in to post a comment.