By Justin on Dec 05, 2008 with Comments 0
---
One of the pleasures in life, at least for many car tuning enthusiasts is to drive a nice convertible Ferrari up and down the Pacific Coast Highway.  Well now you can do it in style with the 2009 Ferrari California that comes equipped with a wonderful retractable convertible top, plenty of power, performance and of course the infamous sexy purr of its engine.  Ferrari seems to always hit its marks and for those that love convertibles and a great looking vehicle, the Ferrari California definitely doesn't disappoint.
Under the Hood of the 2009 Ferrari California
The Ferrari California is similar to the F430 in its engine, price and performance.  Under the hood, you will find a wonderful and very powerful front mounted V8 4.3 liter twin cam engine is the first to offer direct fuel injection.  And with direct fuel injection, you will find plenty of power at the driver's beck and call.  With over 450 horsepower and over 350 ft lbs of torque, you will immediately know you are driving a Ferrari as soon as you touch the pedal.  The California hits 0 to 60 in less than 4 seconds and hits an impressive top speed of 197 miles per hour.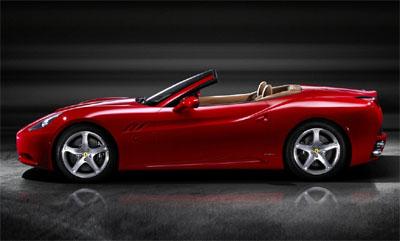 Interior and Exterior
Regarding the exterior, you will find a nice grill, functional hood scoupe and nice, newly designed brake lights.  Inside, you will find what Ferrari calls 2 Plus seating which is enough room to throw a weekend bag or small adult or child in the back.  The convertible hard top can retract into the trunk of the vehicle in about 20 seconds flat and the interior leather accommodations are very nicely done and what one would expect from the Ferrari name plate.  The Ferrari California is definitely a dream car and is now available for those long California drives.
Further Readings:
Filed Under: General
Comments (0)
Leave a Reply
You must be logged in to post a comment.