By Justin on Nov 06, 2008 with Comments 0
---
If you love BMW, you probably find the 3 series one of the better vehicles on the road.  The BMW 3 series offers a bunch of vehicles that are generally more affordable, but offer plenty of style, performance and power.  While the last few years, the BMW 3 series stayed relatively unchanged, there are plenty of changes coming for the 2009 model year, one of them affects the BMW 3 series convertible.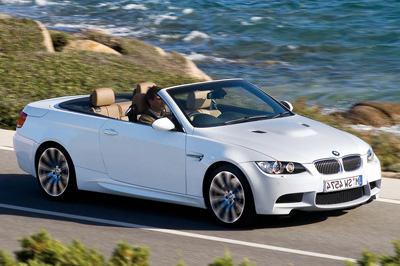 2009 BMW 3 Series Tech Specs
The 2009 BMW 3 series convertible comes with a retractable hardtop.  This is a nicely done coupe vehicle built for 2.  As it is primarily the same vehicle as the BMW 3series coupe, expect the same power plant and chassis.  The 328i convertible coupe offers a lot of power and performance.  For starters, the 328i uses a 3 liter inline six engine.  It produces a healthy 230 horsepower.  It should also be noted that this vehicle is a rear wheel drive and comes with a six speed automatic that includes as an option a steptronic gear selection with rapid action.
The 335i Convertible Model
Another model offering a convertible in the 3 series is the 335i that comes also with a 3 liter inline six, but adds twin turbochargers, an all aluminum crankcase and offers 300 horsepower making accelleration extremely quick- 0 to 60 in about 5.5 seconds.
Regarding the convertible hard top, this hard top is quiet and comfortable when fully up.  The hardtop adds about 500 pounds of extra weight compared to the couple model, but  folds down quickly and easily.  Starting price for the 352i is about 44K.  Unlike many other models that lower the performance of their convertible, you will find exceptional performance, power and handling with this vehicle.
Further Readings:
Filed Under: General
Comments (0)
Leave a Reply
You must be logged in to post a comment.