By Shenron on Jun 05, 2008 with Comments 6
---
Volkswagen manufactured Lupo for about 13 years from 1998-2005. As one of top four leading car manufacturers, Volkswagen continues to innovate and experiment with variations of cars including this city car known as Lupo. This was replaced eventually by the VW Fox.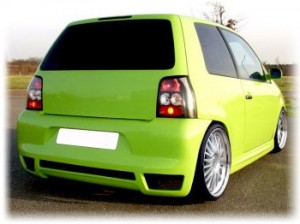 Hot Hatch
With majority of car models produced geared towards bigger and heavier cars, VW decided to fill in the gap for lighter and smaller model which gave birth to VW Lupo late in the 1990s. Direct competitors of this brand were Opel's Agila, Ford's Ka and Fiat's Seicento. The VW Lupo has proven itself a good model for car tuning where it has won several awards including Best Micro Car from Fleet News Award in 2001, Best Small Car from Auto Express New Car Honours and Best Fuel Economy from the International Engine of the Year Award, both in 1999. Such awards clearly indicate that the VW Lupo is indeed of world class quality.
Special Edition
The VW Lupo was further improved with Lupo 3L which had every intention of making this the first car model to consume 3 liters of fuel for every 100 kms. Along with this upgrade, a few changes were made to the original Lupo. First, it included a three-cylinder engine powered by diesel with direct injection and turbo charger. The doors, rear-hatch, hood, seat frames, wheels, engine block and suspension system was made into magnesium alloys and light-weight aluminum to come down to a weight 830 kg. There's also the tiptronic gearbox. Idling periods are avoided with automatic engine starts and stops. Add resistance tires and move the battery to the boot for improved weight distribution and you get a VW Lupo good for racing and showing off. Your Lupo can still be improved to something like this racing car. Anyway, it's going to be worth more than the usual.
Further Readings:
Filed Under: General
Comments (6)
Leave a Reply
You must be logged in to post a comment.