By Shenron on Jul 16, 2008 with Comments 0
---
Volkswagen is one of the bigger names in the automobile industry. Volkswagen has built it's name on the safety and reliability of it's vehicles. Many car buyers in the United States, and worldwide, know that when you purchase a Volkswagen, you are buying a vehicle with a reputation for being not only one of the safer cars on the road but also a car that will not be spending excessive time in the car repair shop. One of the more popular lines that Volkswagen produces is the Passat. The Volkswagen Passat encompasses all that an economical family car should be, and it is available in a number of different forms from the regular Passat to the Sedan, and finally the Passat Wagon.
Volkswagen first brought the Passat to America in 1990 and though it had a slow start at being accepted, mainly due to it's lack of an attractive front end, it eventually became one of the more popular family cars on the market. The key to it's acceptance on the market came a few years after it's introduction when a V-6 version became available. The Passat developed into a full featured car line eventually going from a front wheel drive only family car to a vehicle that had both all-wheel drive and turbo charged capability as options. Roughly twelve years after it's debut, the Passat was also able to be equipped with a V-8 engine if the customer chose that feature.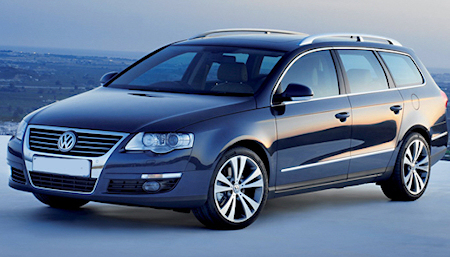 The Volkswagen Passat Wagon achieved a following of it's own based on it's large cargo capacity in terms of both passengers or goods and on it's semi-luxury interior options. The Passat Wagon is one of the more attractive wagons on the market with a great deal of attention paid to both the interior and exterior of the vehicle. With an all wheel drive powertrain and a V-6 engine, the Passat Wagon has the ability to be a reliable family vehicle under a great deal of adverse driving conditions. The interior of the Passat Wagon allows parents to feel like they have not given up on their dreams of a luxury car, even though they were in obvious need of a true family car. There are many popular features included in the interior of the Volkswagen Passat Wagon including: a leather steering wheel, user-friendly controls, air conditioning, power windows and mirrors, an MP3 capable and CD stereo system, cruise control, a cooled storage compartment, and more. The most important interior feature that many Passat Wagon owners swear by though is the more than 35 cubic feet of cargo space.
The Volkswagen Passat made it's debut as an economy family car, and because of what many car buyers saw as sub-par exterior design flaws, it took awhile to take off and become popular. Through constant upgrades and redesigning though, the Passat line of cars developed into one of the more popular economy and family car lines of any manufacturer. Whether the Sedan model or the Wagon model, Volkswagen has filled a niche with it's Passat line of cars.
Further Readings:
Filed Under: General
Comments (0)
Leave a Reply
You must be logged in to post a comment.