By Shenron on Oct 19, 2009 with Comments 0
---
Tatra manufacturing company takes its name from the mountains nearby and was founded in 1850 as a really long name that no one who speaks English and doesn't know other languages would ever be able to pronounce. It began as a wagon and carriage manufacturer and later on produced a motor based vehicle, the first of its kind in central Europe, in 1897. In 191 it changed its name to its current name and is today regarded as the third oldest manufacturer of automobiles in the entire world. Only Peugeot and Daimler are older.
The first Tatra car was the Type A Tatra, and was capable of 40 kilometers per hour. Following this was the – of course – Type B. Can you see where this leads? A B C D etc… Well the type B had a central motor and was barely produced. Following this a new design was made, scrapping the old ones, and thus in 1905 the Type S was born. World War One of course greatly affected the production ability, considering the Czech were invaded by the Germans. Not until after this war did the Tatra come again.
During the time between the Second World War Tatra built cars that could be considered as streamliners, along with those that closely resembled the famous Ford model T. Focusing on luxury during the 1930's Tatra was known for having technically advanced and luxurious designs. In fact the Tatra 777 car, which was a rear mounded V8 vehicle, was the first "in-production" truly streamlined car, with a drag of only 0.212 – which in itself is a great number that cars today have a hard time obtaining, even those designed to be as drag-less as possible. It is also Tatra that designed the first beetle-like car, and after the War Volkswagen was forced to pay damages to Tatra for intellectual property violations.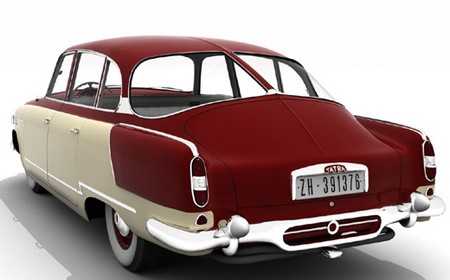 After that, in 1946, the company was nationalized under the communist rule and continued production of its famed vehicles. During the 70's new design improvements allowed for new vehicles, including the T613. However after the fall of communism and the orders plummeting to nothing Tatra discontinued the 613, and then in 1999 abandoned cars completely.
However in 2003 it began to produce a small number of trucks, followed by a slowly increasing demand. Last year they hit 1600 vehicles and this year they are on pace to build at least 2.5K. Tatra may not be finished entirely just yet.
Filed Under: General
Comments (0)
Leave a Reply
You must be logged in to post a comment.