By Shenron on Sep 30, 2008 with Comments 0
---
Race marshals can be seen at Formula One Races, each carrying 10 different colored flags with them. Originally, the purpose of these flags is to send messages to the drivers during the race. However, due to the high-speed driving displayed on the track, it would be difficult for the drivers to notice each flag and react accordingly.
Modern-day technology presented a solution for this and thus provided each racing cockpit their very own GPS marshalling system that displays the relevant flag color as the driver passes by a certain location. But this does not mean the race flags automatically lose their importance inside the racetrack. Nowadays, they are still used to send race information to cater to a different group of people–the Formula One Race audience.
As a Formula One Race fan, it would be important to know how each flag is used to keep track of what is literally on track. Each flag has its own specific meaning and collectively, these flags follow a pattern.
Among these flags, the most popular perhaps is the black and white checkered flag. It is used mainly to indicate the end of a race or session and it is waved at the first car to cross the finish line. But this is not the only use of the said flag. During qualifying and practice sessions, it is waved to indicate the elapse of the allotted time.
This is not the only flag used to indicate the end of a race. The waving of a red flag also indicates the same reason but under a different condition. A red flag indicates an abrupt end of a race due to poor racetrack conditions or any track accident or emergency.
Marshals can either wave two yellow flags or only one yellow flag. A yellow flag indicates a problem ahead and waving a single one warns the driver to slow down. On the other hand, two yellow flags indicate that an even greater danger can be expected ahead and the cars might then require stopping. In cases such as these, overtaking is not allowed.
When used in combination, a yellow and a red flag being waved at the same time may indicate adverse track conditions. It may indicate that oil has been spilled on the racetrack or certain dangerous debris may have been found on track.
Just as a race may be abruptly ended, it may still resume after the unavoidable incident has been cleared and the racetrack proven safe again. A green flag serves this purpose, indicating that the race may already resume.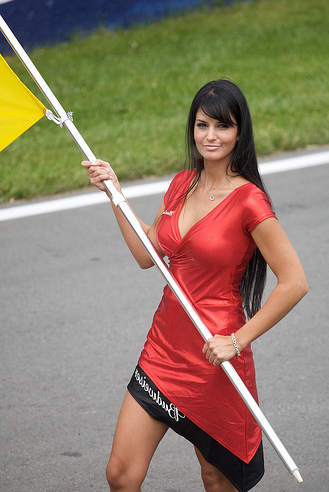 The red, yellow, and green flags are used in Formula One racing almost in the same way it is used to direct road traffic.
Meanwhile, a white flag can also be seen being waved during a race. This indicates that a slow-moving vehicle has entered the track and therefore, drivers must reduce their speed to make way for the vehicle.
The blue flag is used to warn a driver that a faster car is approaching. In this case, the driver must let the faster car pass him by. If a driver fails to let a faster car pass by after being warned by a blue flag thrice, he then gets penalized.
Aside from these color-coded uses, the race flags are also used to inform the drivers of their current status on track. These race flags are also being used to keep the race spectators updated regarding the individual status of the personal cars or racers, which they may have been keeping an eye on.
If a driver's behavior during a race becomes unacceptable, a half black and half white flag is raised together with the driver's car number. If the driver's behavior continues after these have been raised, it may lead to his disqualification.
If a driver becomes disqualified, a purely black flag is waived to inform him that he must return to his pit within the next lap.
Lastly, a black flag with an orange circle in the middle is waived to inform a driver that a vehicle mechanical problem has been detected and should then return his car to the pit.
Filed Under: General
Comments (0)
Leave a Reply
You must be logged in to post a comment.