By arman on Jul 16, 2011 with Comments 0
---
Italian tuner Romeo Ferraris is celebration the 150th anniversary of unification of Italy by tuning  German car!
They've done a very good job though, with the MINI Countryman, the trendy 4WD car that's been giving a thorough styling upgrade and some light performance tweak.
The main highlight of the car is the matte blue paint job, complemented by varoius chrome bits. For the roof we find the same painting chrome used for the 500 Abarth Anniversary, celebrating 52 years of activity of Romeo Ferraris emphasized by chrome racing stripes on the hood and tailgate, and the mirror caps to match.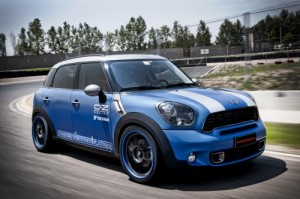 The styling is further enhanced by lowering the car using sport suspension and putting 19-inch wheels under it, with matching colors. The car also benefits from Brembo braking system.
As for the engine, the Cooper S 1.6 liter turbo unit now gets a remapped ECU and some sport exhausts to generate 43 more hp and 85 more Nm.
TECHNICAL – MINI COOPER S 150 th ANNIVERSARY COUNTRYMAN
DESIGN
Dull blue paint
Chrome roof coating
Graphite paint mask
Graphite coating side badges
Paint headlights graphite frames
Decorative chrome strips
Chrome mirror caps
Headlights with black background
ENGINE
Air Filter
Unit
Intercooler plus
Complete exhaust system consists of:
downpipe with catalytic cells 200
central
Dual output terminal replication Mini Countryman WRC
INTERIOR
Blue stitching
Blue piping
RF is embroidered on the headrests Sagittarius
Embroidered Tricolore
ALIGNMENT AND BRAKES
Complete set-up height adjustable
Brembo braking system consists of:
floating discs perforated (or slotted) made to measure (328×28 mm)
calipers with 4 pistons
OZ Racing Superleggera III Forged wheels disassembled into three pieces, 9×19 "
Car paint to match the external canal
Yokohama Advan Sport tires 225/40/R19
Filed Under: Tuning
Comments (0)
Leave a Reply
You must be logged in to post a comment.