By arman on Nov 27, 2009 with Comments 0
---
Mercedes E63 AMG is already tuned to the limit when it leaves the factory, but specialists at Brabus always find a way to extract more power out of those magnificent AMG engines!
So they have run their magic on the E63's 6.3 liter V8 and with the help of  sport air filters, free-flow metal catalysts and upgraded ECU, they increased the power form standard 525hp to 555hp and 650 Nm of torque.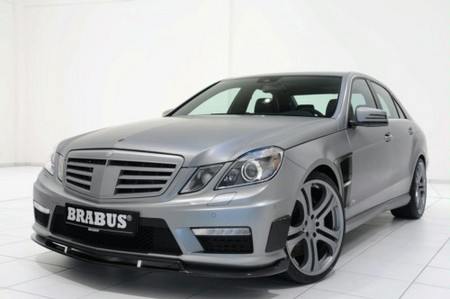 Now with the limiter removed, the car can reach the top speed of 320 km/h, while the sprint to 100 km/h is done within 4.3 seconds, 0.2 second faster than the standard car.
Brabus E63, which is now called B63S, is also visually upgraded with the tuner's Monoblock wheels available in 18, 19 or 20-inch diameters, and an aggressive carbon fiber body kit consisting of front spoiler lip, rear diffuser and bootlid spoiler.
Brabus also offers a bespoke interior program with a blend of leather, alcantara, wood or carbon fiber, plus new speedo and illuminated Brabus scuff plates.
Further Readings:
Filed Under: Tuning
Comments (0)
Leave a Reply
You must be logged in to post a comment.