By arman on Dec 17, 2009 with Comments 0
---
You might be familiar with Gemballa's GT Aero kits for the Porsche Cayenne, as the tuner releases a new version every 72 hours! This one is GT 500 AERO 3 and comes with new features.
The mighty Cayenne gets a whole new face after the AERO 3 treatment with a new front grille, modified bumper with huge air intakes, fog lamps and mesh grilles. Then there's the new side skirts, and at the back you get a roof spoiler as well as a revised bumper with a new diffuser and four integrated tailpipes connected to the car's new sport exhaust system.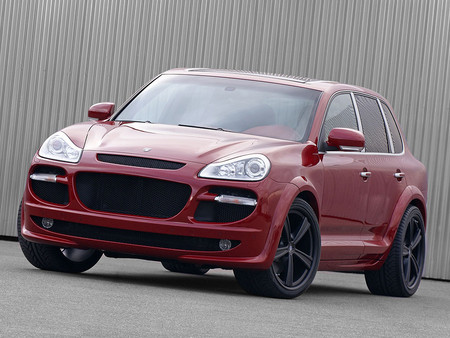 The buffed up fenders, which by the way at front have new vents in them, have enough space now for the big 22-inch wheels which come in the tuner's typical design. GT 500 also has an electronic lowering module which reduces the ride height. Gemballa also offers a bespoke interior program for this car.
Further Readings:
Filed Under: Tuning
Comments (0)
Leave a Reply
You must be logged in to post a comment.