By arman on Nov 26, 2009 with Comments 0
---
Geiger's huge obsession with American cars has finally led him into making a true monster out of the Ford GT!
Dubbed the Geiger HP 790, this beast comes in a striking green paint with classic black racing stripes. It's quit fascinating, we are however more interested in what's under the hood!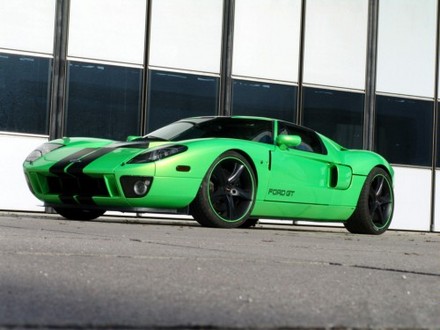 Well, in brief, there's a volcano under that hood! Ford's 5.4 liter V8 engine has been modified with a much larger supercharger, larger throttle valves, cold air intake system and re-mapped ECU, so it delivers a massive 790 hp and 863 Newton meters of torque!
The performance of this thing really makes your head hurt! It covers the zero to 100km/h in just 3.6 seconds, breaks the 200km/h mark 6 seconds later and reaches 300 km/h in 22.8 seconds. And if you have the balls to keep accelerating, it'll take you up to 360 km/h!
A car with this level of performance certainly needs above the average suspension system, so the Ford's unit is upgraded with hydraulic shock absorbers with adjustable pressure and rebound damping.
It is also fitted with matte black wheels that are 20-inch at front with 245/35R20 Dunlop SP Sport Maxx tires, and 21-inch at the back with 325/30R21 tires.
source: Motorward
Further Readings:
Filed Under: Tuning
Comments (0)
Leave a Reply
You must be logged in to post a comment.