By arman on Dec 21, 2009 with Comments 0
---
German tuners from McChip-dkr who specialize in chip tuning, obviously, released two new program for the king of hot hatches, Ford Focus RS.
Focus RS has a turbocharged 5-cylinder engine with 305hp, so it's not underpowered by any mean, nevertheless, thanks to the first stag o McChip's program you can have it with 345 hp and 520 Nm. Remember that it's achieved only by modifying the car's ECU and enables the car to reach a top speed of 271 km/h. Stage1 costs 799 Euros.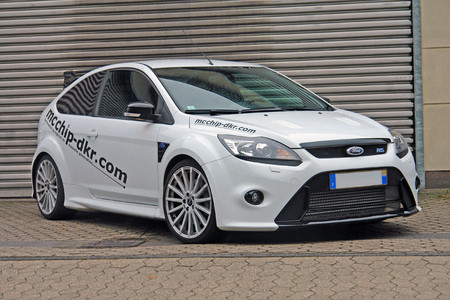 But that is for the low budget customers! For those who are willing to spend 4,499 Euros, McChip offers stage 2 which comes with enhanced intercooler and sports exhaust system, modified inlet manifold incl. tubes, special sparking plugs and of course modified electronics. So it bumps the power up to a massive (well at least for this type of car!) 401 hp and 612 nm of torque. That's good for a top speed of 278 km/h.
Further Readings:
Filed Under: Tuning
Comments (0)
Leave a Reply
You must be logged in to post a comment.