By arman on Mar 24, 2010 with Comments 0
---
CORSA Performance Exhausts has unveiled new axle-back Mustang exhaust systems featuring a dual rear exit with Twin 4-inch Pro-Series tips etched with the CORSA logo.
Available for 2010 Ford Mustang GT, Shelby GT500 and Mustang Bullitt, this systems are crafted in the United States from premium stainless steel, and all tips are double wall, highly polished stainless steel laser etched.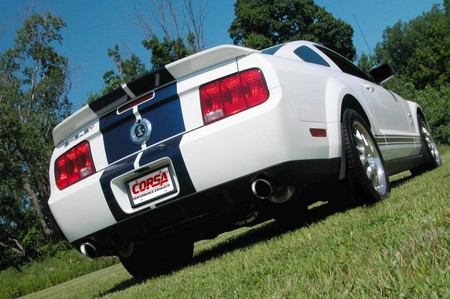 CORSA offers multiple versions of the Mustang exhaust system:
* The Mustang Sport Exhaust System (part #14311) delivers 40% better flow than stock, resulting in a performance gain of 13 rear-wheel horsepower and 9 rear-wheel lb.-ft. of torque for the Mustang GT. On the Shelby GT500, performance gains are even greater with a gain of 16 lb.-ft of torque. CORSA's Sport Exhaust System produces a robust, aggressive sound.
* The Mustang Touring Exhaust System (part #14313) features the same flow and power as the Sport system, but has a more refined, distinctive performance sound. It is available for the GT and Shelby GT500.
* Engineered for a race-inspired, muscular exhaust note, the Mustang XTREME System (part #14314) is 10 lbs. lighter than stock and delivers a 43% flow increase for improved performance of the GT, Shelby GT500 and Bullitt.
* The 2.5-inch XO-Pipe (part #14312) is available for the 4.6L V8 3v Mustang GT and is designed to even out exhaust pulses for improved sound and performance on the original system. The CORSA XO-Pipe increases flow compared to a stock H-pipe.
Further Readings:
Filed Under: Tuning
Comments (0)
Leave a Reply
You must be logged in to post a comment.