By Shenron on Oct 12, 2007 with Comments 3
---
One of the ways that many people modify their cars is with chip tuning. Chip tuning is when a car or vehicle's EPROM chip is modified usually resulting in higher performance including higher fuel economy, more power and cleaner emissions.
It should be noted that there are two major ways to tune a chip, the first is to fully swap an EPROM chip, and the second way is to modify the instructions on an EPROM chip. When modifying the instructions of an EPROM chip, you are usually gaining access to the ECU engine control unit and simply updating the software. Software can be updated on most vehicles with the use of an interface. One popular type of interface used is called the OBDII. The term ECU tuning and chip tuning are sometimes used interchangeably.
Just like many people reprogram their home computer so that it works faster or more efficiently, so can one reprogram a car's computer chip or replace the chip completely. Some of the aspects that can be modified are fuel injection ratio, valve timing, boost control in a turbocharger, spark timing, automatic braking system, electronic stability control and even the automatic transmission.
An increase in performance is usually easy to realize by changing the settings in the ECU or swapping a chip. The main reason why performance is easy to achieve is that most cars that come direct from the factory are pre programmed to be fuel efficient. You can easily modify these fuel efficiency settings with the results being that the car will usually perform better, however more fuel will be used in the process.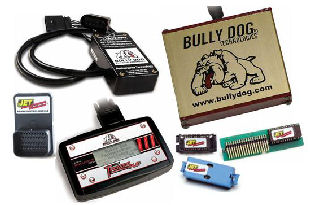 For those that are interested in chip tuning, you can either purchase a pre modified new EPROM chip for your vehicle which can cost from $20 to several hundred dollars or gain access to a OBDII interface and modify the settings in your ECU which usually costs less than $100. It should be noted that usually the entire process of either installing a new EPROM chip or reprogramming the ECU usually only takes a few minutes.
It should be noted that many car owners constantly debate whether modifying their ECU or installing a new EPROM chip voids their vehicle's warranties. Before making any changes, you should definitely contact your car dealership. However, if your car is older or no longer on warranty, reprogramming the ECU or installing an EPROM chip is safe and easy and usually not result in any problems.
Filed Under: General
Comments (3)