By arman on Sep 15, 2009 with Comments 0
---
The Swiss tuners Sportec has come up with an extensive tuning program for the 2009 Audi S4 Avant and added a bit of spice to its recipe! This package is both visual and mechanical so this station wagon car is anything but boring.
Of course the S4 is not underpowered with its 333hp three litre V6 compressor, but Sportec technicians managed to extract a good 425 hp out of it. The torque now clocks at 520 nm. This has been done by upgrading engine's electronics and using a high performance sport air filter.
The performance of the Sportec S4 Avant is really remarkable considering the class of the car. It accelerates from zero to 100 km/h in 5.2 seconds, and although the top speed is still electronically limited to 250 but it takes much less time to get to that!
However Sportec is not content with solely an upgrade. A special sports silencer with four end pipes – two pairs on either side right and left – provide a more sporty sound. A braking system on the front axles enlarged to 380 millimetres ensures improved braking power. On the other hand chassis clearance has been reduced as Sportec has fitted the Audi with a suspension kit shortened by a progressive 25 millimetres.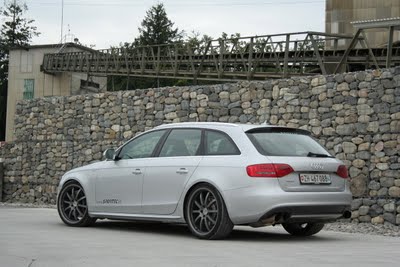 As for the looks, you get new front and rear spoiler which not only look meaner but also help with the aerodynamic, plus an air diffuser with integrated mufflers. All of these parts are made of carbon fiber.
Sportec's 9×20 inch wheels wrapped with 245/30 rubber complete the sport appearance of the S4 Avant.
Further Readings:
Filed Under: Tuning
Comments (0)
Leave a Reply
You must be logged in to post a comment.