By Shenron on Jan 19, 2009 with Comments 0
---
Launched as Audi's flagship executive luxury car, the A8 captures the imagination on first glance, it's a big car that needs a lot of space, yet at the same time is a masterpiece of agility and tight cornering; a tuning experts dream come true.
First released in 1994, the Audi A8 is much lighter than it's peers owing to Audi's unique aluminum frame, the Audi Space Frame (ASF), which significantly reduces weight over steel framed automobiles. Sporting powerful v6 or v8 engines with petrol or turbo diesel options, the A8 is designed for executives who love to drive.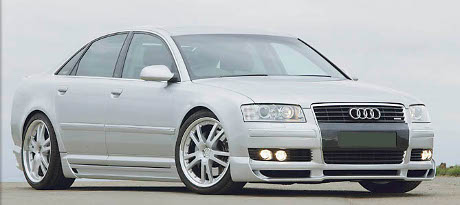 All wheel drive technology borrowed from the Quattro range comes as standard on the Audi A8, and is a significant difference from other executive cars in the same class which are mostly rear wheel drive, adding to the A8's reputation for better handling in wet or winter conditions.
Style and comfort, with appropriately variable but typically soft suspension have made the Audi A8 a popular choice for use with limo companies, even more so with the top of the range model featuring a powerful 6 liter w12 engine.
With expert tuning the A8's light frame and powerful engine could easily take the weight of protective panels and stronger glass, giving Audi an attractive entry to the armored limousine market, and curiously many buyers are looking to the A8 for exactly this purpose owing to the car not looking like a traditional limousine, especially in markets where security staff are required to chauffeur family members to school or functions.
The luxury market in fact tends to be where most tuning specialists dealing with the A8 focus their energies. Owners seem less interested in throbbing exhausts and extreme body kits, and more interested in subtle changes to bodywork that accentuates the image of the Audi A8 as a luxury vehicle.
New front bumpers with the bigger single frame grill introduced in late model Audi A8s are a popular addition that is very affordable and within minutes alters the look of the front end from classy executive car to a vehicle with a predators look, just the sort of image to inspire awe in other road users.
A large car like the Audi A8, with it's very impressive v8 turbo diesel engine, means almost any tuning done under the hood is going to offer a very satisfying increase in power and performance. Remapping the ECU is guaranteed to give an extra few horses at the wheels, especially in high speed driving on the freeway.
Fitting 20″ multi-spoked alloy chrome rims and 275/35ZR20 sport tires adds to the overall effect in a large luxury saloon and shows an owner prepared to buy only the best accessories, and road handling at speed or in tight cornering improves, especially important when fast braking or quick overtaking are needed.
Internally, the Audi A8 is almost perfect with luxurious fittings, heated soft leather seats with lumbar support, driver controllable suspension settings, and gorgeous wood paneling. The audio whilst good is certainly not spectacular, fortunately, after market upgrades such as Bang and Olufsen's 14 speaker advanced sound system are readily available from audio tuning suppliers.
Learn more about Audi A8 Tuning.
Further Readings:
Filed Under: General
Comments (0)
Leave a Reply
You must be logged in to post a comment.