By Shenron on Nov 13, 2007 with Comments 1
---
American Motors Corporation (or AMC) was created at the merger between Hudson and Nash-Kelvinator, and at the time it was the largest merger ever in the United States (1954). In today's terms it would be a billion and a half USD, but back then it was 200 million, and because of the declining auto sales AMC itself had to merge with Renault in 79. Then in 87 AMC was bought by Chrysler.  Chrysler discontinued many of the brand names, such as AMC and Renault, but left Jeep alone.  Eagle lasted for a bit – but they pretty much killed that one off too.  During its heyday AMC combined the Nash and Hudson's to create a great selection of vehicles, and then created the Rambler – which became a brand of its own soon after – the success of these lead to greater prosperity and much larger sales that could have been expected.  Ramblers were the first to start the compact car movement way before there was a need, twenty years before the fuel crisis strangled the US economy and killed a lot of great cars.  Then, in a surprising move that has not one single time since been as successful – they reintroduced the 1955 Nash Rambler without any major modifications in 1958 with huge success.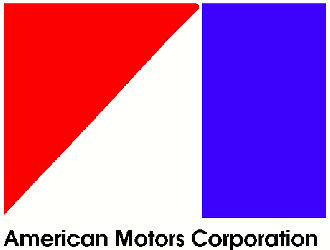 In the 1960s they changed their ideals and began to build more reliable and economy based cars that were easier to afford and lasted the owners a good amount of times, they also started doing more convertibles and included air-conditioning as standard in 1968.  BNecause of this they were able to become very successful in marketing a new feature, and then with a new CEO in 1968 they changed more of AMCs marketing and eventually were able to regain some lost ground in the earlier sixties.  Finally they were able to reach the VW bug in price, and sell as cheaply as they did – which further expanded the numbers they sold.  However, in 1969 they decided the time for the Rambler was gone –and they cut that… but being the first to make Air Conditioning standard – they showed it could be done with minimal cost.  At the beginning of the 1970s they were seeing more sales, more market share, and beginning to reap the benefits from the expanded lines and expansion of their sales.  However, by the end of the 70s a lack of developments because of failures lead them to stagnant sales, and they were unable to compete in the energy crisis. In 79 they merged with Renault to get some more backing and car models, and that worked until 1985, then the final buyout occurred, and since then AMC has become Chrysler, bringing with it the knowledge of constant need for innovation and designing.
Filed Under: General
Comments (1)
Leave a Reply
You must be logged in to post a comment.