By Shenron on May 23, 2008 with Comments 0
---
Luxury cars, especially luxury sports cars, have been one of the more highly valued and sought after types of cars in the history of automobiles. One of the biggest names in luxury cars is Jaguar. With one look at a Jaguar as it drives down the road it is easy to see why these cars are valued by car enthusiasts, car drivers, and car collectors alike. The fact that the Jaguar has held its place as one of the definitions of luxury cars year in and year out is a tremendous accomplishment considering the complex history of the company.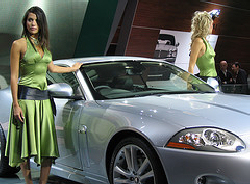 Jaguar was founded in 1922 as the Swallow Sidecar Company. It started as a motorcycle company before producing its first model of car in 1935. It wasn't until 1945 that the company dropped its earlier moniker and took the name of Jaguar. In the 1960s the Jaguar company bought the Daimler Motor Company and began marketing its more luxurious sedans under the Daimler name. In the late 1960's Jaguar merged with the British Motor Corporation to form British Motor Holdings. Shortly after this merger another merger took place in which BMH merged with Leyland to become the British Leyland Motor Corporation, which also included two other known brand names, Rover and Triumph.
The British Leyland Motor Corporation operated under this structure until the mid 1970's when the company was all but nationalized by the government and became British Leyland Ltd. It wasn't until the mid 1980's that Jaguar was once again seen separated into its own company, but even this was short lived. Jaguar was purchased by The Ford Motor Company in 1990 and in 2007 after 17 years of never showing a profit for Ford, the Jaguar name and all of its assets were announced as being up for sale. The successful company buying Jaguar, and Land Rover which had also become a Ford property, was Tata Motors which is a multinational company based in India. The deal was finalized in 2008.
Despite its rather volatile company history, especially when considering how many different companies have owned it, Jaguar has managed to stay near the top of the luxury car world. This is truly an outstanding accomplishment considering all the pitfalls that it dodged and surely could've succumbed to at any time. With this history, Jaguar is sure to continue to be one of the luxury models of choice as it goes forward under the banner of Tata Motors.
Filed Under: General
Comments (0)
Leave a Reply
You must be logged in to post a comment.