By Shenron on Dec 10, 2020 with Comments 0
---
You don't have to drive too far or too long to come across an accident on the road. Vehicle collisions are all too common, no matter where you live, work, and travel. Some accidents are minor and cause little damage and no injuries. However, other incidents can leave vehicles out of commission and people badly hurt. Car accidents can not only take a physical toll on people, but there are emotional and financial effects as well. If you get into an accident while behind the wheel or as a passenger, there are some things you will want to stay away from.
Leaving the Scene
Perhaps the last thing you want to think about doing is fleeing the scene of an accident. Whether you are at fault, not at fault, or partially to blame for the accident, never take off before the authorities arrive. Leaving can look like an admission of guilt. It is also illegal and carries possible criminal penalties. Regardless of the nature of the accident, always wait until the police and other first responders come. If you are shopping for insurance coverage at Mercury insurance reviews, you may not be able to find an insurance company willing to sell you a policy if you have been charged for leaving the scene of an accident.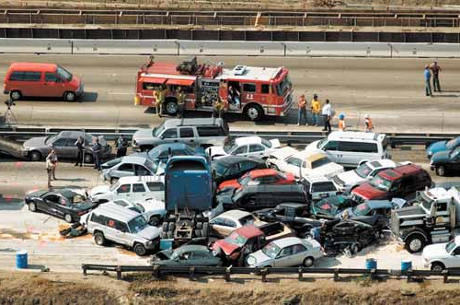 Losing Your Cool
Getting into a car accident is one of life's most stressful events. It is easy to let your emotions get the best of you. Anger and frustration will often result. If someone hits you, it is likely that you will want to accuse the other person and lose your temper. The right response is to calmly approach the other driver and exchange insurance information and contact numbers. Even if you are certain the other person caused the accident, resist the temptation to be upset. At the same time, never admit guilt, even if you believe you were the cause of the accident.
Skipping Medical Care
In serious accidents, paramedics will arrive on the scene and take anyone involved directly to the hospital. In moderate accidents, victims may not go to the hospital via an ambulance but may receive on-scene care from responders. The need to seek medical attention will be obvious in these situations. The challenges arise when the accident is minor, and you seemingly have no injuries or only light injuries. Some people tend to avoid going to the doctor's office following such incidents.
You should always let a qualified physician examine you following an accident. Some injuries may not manifest for days or even weeks after a car accident. Also, what seems insignificant to you may have lasting consequences on your health. Also, if you file an insurance claim or lawsuit to cover your injuries, you will need to show that you sought medical care and treatment.
Failing to Give Detailed Information to Your Insurance Company
As soon as possible after your accident, you should get in touch with your auto insurance agent. Report the incident and give as much information as you can about what happened. Describe the nature of the accident — how it happened, when it happened, and where it happened. You will also want to inform the agent of any injuries you or your passengers suffered. Talk about how serious the injuries were and whether a doctor examined you and treated the injuries.
If the police report deemed that the other driver was at fault, you should contact the other person's insurance company. Provide the same types of information. Be careful, however, that you do not exaggerate. Be accurate and truthful in everything you say.
Forgetting to Speak to a Lawyer
There are some types of accidents that warrant pursuing legal action. If you are involved in a hit-and-run, you will want an experienced legal professional on your side to protect your rights. If you suffer serious, life-altering injuries, an attorney can help you build a personal injury lawsuit case. An attorney is also helpful if your insurance company is denying your claims or making the process difficult.
The chances are good that you will be involved in an accident at some point in your life. Be prepared for these events. If you understand the do's and don'ts of how to respond to a car crash, you can have peace of mind. Following these tips can spare you a lot of headaches and grief.
Filed Under: General
Comments (0)