By arman on Aug 21, 2017 with Comments 0
---
Mercedes SL type R230 has a timeless design which is still fresh after like 10 years of being around.
So tuner keep working on it, and here's one of the latest packages which also turned out to be one of the best. Piecha Design's kit is trying to be more elegant than sporty and looks absolutely stunning.
PIECHA is the only tuner to develop special build-in housings with LED daytime headlights, incl. fog lamp. They can be delivered ready for installation for the serial bumper and the AMG bumper of the SL63 and SL65. For the serial bumper, a refined, elegant, three-part front spoiler lip was developed as well to harmonise perfectly with the daytime headlights.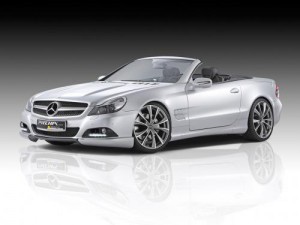 PIECHA also offers a harmonious rear spoiler lip that is as elegant as it is effective. It provides an additional push down on the rear axle.
Besides the new body components, you also get the new PIECHA MP1 monoblock wheel rims in the front-polished titanium silky-gloss version are true eye-catchers. They are available at 9.5×20 with 255/30 R20 for the front, and at a gigantic 11×20 with 305/25 R20 for the rear wheel cases of the SL.
The beautiful brand-new PIECHA designer wheel set matches all the CLS models of the 219 and 218 series with the same tyres. The car body also does not require any rework. Proper wheel covering, however, requires that the chassis is lowered.
So there you go , one of the best tuned Mercedes SLs in the world. Too bad the car will soon go out of production.
Filed Under: Tuning
Comments (0)
Leave a Reply
You must be logged in to post a comment.