By Shenron on May 30, 2008 with Comments 10
---
The Volkswagen Polo is basically designed to be a family car. The VW Polo is also compact, economical and driver friendly. And at the same time, the VW Polo is also fun and rewarding to tune-up.
But before you consider tuning a VW Polo, it is prudent to get the right version equipped with the right engine. If you are planning to tweak your VW Polo in the future then the VW Polo Mark4 is your best choice. And don't be blinded by the cheapness of the 1.0 L engine because it will remain a snail even after expensive modifications. Other engine types are O.K., but a 1.8T would be awesome. But if your budget could not afford a 1.8T, a 1.4 16V is not bad at all.
Like any VW Polo or Golf, your best and most affordable upgrade would be the air filter and exhaust system. The panel filter will work best with the 1.4 or even the 1.8T. This upgrade will do until you get your hands on enough cash to get a more powerful engine. And once you do, get a 1.8T if you originally bought the 1.4, or if you got the 1.8T already, then a VR6 would be the next choice.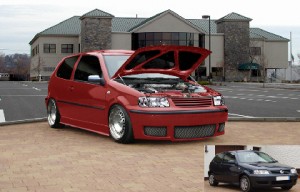 There are other problems with the VW Polo that you should take care of through tuning. One is the suspension since the VW Polo is higher than it should be. You could solve this by lowering the strut to about 40 mm than the original. Lowering the suspension will provide better handling and stability of your car. But once you lower the suspension, you should also opt for firmer springs to stabilize the feel of the car. Or better yet, you could get an adjustable suspension if you could afford it.
To fit your lowered VW Polo and to increase handling, it is wise to get 18″ wheels. You could opt for something smaller, but 18″ looks better. Be sure to get good quality tires to go with the wheels. Excellent tires may cost more, but they will prove practical in the future.
Further Readings:
Filed Under: General
Comments (10)
Leave a Reply
You must be logged in to post a comment.