By arman on Dec 06, 2009 with Comments 0
---
Italian tire manufacturer Marangoni, in operation with TRC Italia revealed their 2010 show car featuring their new series of M-power Blue high performance tires.
The Z-Hydro as it's called, comes with a full TRC aero kit with new bumpers, air intakes, side skirts, rear diffuser and rear wing, which like the side mirrors are made of naked carbon fiber making a nice contrast with the white color of the body.
370's powered by a 3.7 liter V6 engine, optimized with a new Hydro kit, which lowers the emissions and improves fuel efficiency. The car is also equipped with high performance braking package consisting of 400mm discs and 12-piston calipers.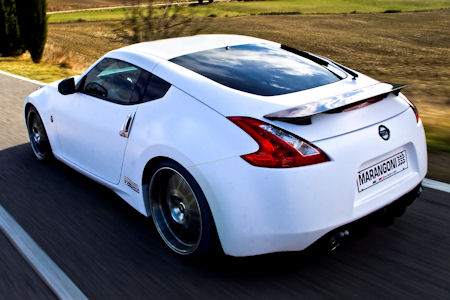 The company has picked the 20-inch Oxrock Black rims to show their new tires on them, and enhanced the view by using KW coil-overs which lower the whole car by 4-inches. This KW suspension also includes a hydraulic lift system.
Interior modifications include leather and alcantara trimming with a blue theme, as well as sport seats.
via: MotorWard
Further Readings:
Filed Under: Tuning
Comments (0)
Leave a Reply
You must be logged in to post a comment.