By arman on Nov 25, 2009 with Comments 0
---
German tuner LOMA Performance has unveiled one of he coolest tuning jobs ever done on any car ever! Although it's just a Corvette!
They call it the C6 Blackforceone which is inspired by the Air Force One. In fact they wanted it to be a jet fighter or something for the roads so they they only paint it in Stealth matt black, Eurofighter matt grey and White Storm matt white.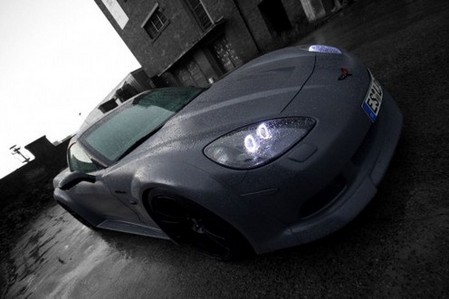 However, the scary appearance is only half of the story! Rest of it lies beneath the bonnet, where there is a Bi-turbo V8 which can deliver up to 800 hp.
But as it turned out only 675 of those horses are put in actual use, but that's ok, because that's enough to give it a 0 to 100 km/h acceleration time of 3.4 seconds and a top speed of 330 km/h!
The Blackforceone also gets adjustable sport suspension, bigger brakes and lightweight OZ Racing Ultraleggera HLT alloy wheels (19-inch front, 20-inch rear) with Michelin Sport Cup tires.
Now you're probably thinking the price of such an amazing thing must be quit high. And it is actually! It is 190,000 Euros a piece, limited to 25 units only.
Filed Under: Tuning
Comments (0)
Leave a Reply
You must be logged in to post a comment.