By Shenron on Apr 29, 2008 with Comments 0
---
Formula One is considered to be the premier motor sport from over the past century until recent times. It has fans in 200 countries all over the world, in different race circuits. It dates back from its roots–the European Grand Prix racing.
Although auto racing dates far back before the war period, the first ever Formula One World championship was not held until 1950. This is because racing has been suspended during the onset of World War II. During the first F1 championship, Giuseppe Farina won the first ever F1 Championship title at Silverstone, England. In its early years, the Formula One championship title was only given to racecar drivers. It was not until 1958 that an additional championship title for constructors has also been given and since then, separate awards are being given to the driver and the constructor.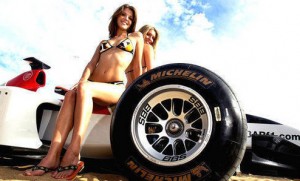 A point system is used to determine who gets the World Champion title for F1 racing. The top eight drivers along with their respective teams in every Grand Prix receive corresponding points determined by their positions as they finished the race. The leading driver and team each receive 10 points while the following drivers and winners get 8, 6, 5, 4, 3, 2, or 1 point. Since 2 cars are allowed to be entered in an F1 race, a team may receive two sets of different points if both of their cars make it to the top eight to finish. The driver and the team with the highest points are announced as the World Champions. In case there's a tie in points, the winner is determined by having the most number of wins gained by the driver or the team during the season.
At present, Formula One racing and World Championship racing are considered as interchangeable terms. World Championship racing have always abided by the rules similar to that of Formula One racing. But prior to 1984, there were a few races in F1 racing which were not recognized in the World Championship racing. But the need to increase in expense eventually rose from participating in F1 racing and this in turn resulted in a difficulty to compete in non-world championship events. As recorded, the last non-championship event happened in 1983.
Technological innovations have consequently increased Formula One racing expenses. In addition, major players in auto manufacturing have also started to sponsor F1 World Championships since 1984. As expenses increased, independent F1 teams struggled to keep up with the technological advancements without the help of sponsors. Unfortunately, financial stress eventually leads to the loss of twenty-eight F1 teams. Formula One is indeed an expensive and exclusive sport, which also presently serves as a venue for big marketing competitions. Auto manufacturers also began to enter the competition by creating their own teams, which in turn replaced the loss of the independent ones.
Today, the Federation of International Automobile (FIA) regulates and supervises F1 racing. Formula One racing's season spans from early spring until fall. Races are held from Europe up to China, Australia, and Brazil. The 2007 F1 racing even listed 17 races around the world for its season. The future of Formula One racing proves to be as solid as promising as it used to be years back when it first started. It continues to grow and reach out to different places and audiences from all over the world.
Filed Under: General
Comments (0)
Leave a Reply
You must be logged in to post a comment.