By Justin on Sep 26, 2008 with Comments 1
---
If you are into car tuning, one of the items that you should definitely look into is adding car spoiler.  While most vehicles do not come standard with a spoiler and those that do are usually more for style than performance, you can easily add some style points and additional performance by adding a high quality racing spoiler to your vehicle.
The Benefits of a Car Spoiler
A spoiler is a flatish, slightly curved appendage on the rear of the vehicle.  Spoilers are found on racing cars and high performance sports cars.  They primarily reduce the amounts of lift and drag a vehicle experiences and at higher speed the force of the wind pushes down on the spoiler adding additional traction for the tires.  While most stock spoilers usually add no discernable performance, a racing spoiler which is usually larger in size and more aerodynamic can add performance- especially at higher speeds.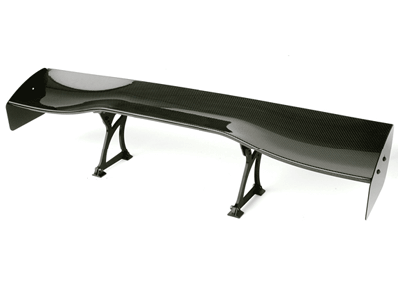 A Wide Variety of Car Spoilers Available
No matter what type of vehicle you own, you can easily find an after market car spoiler for your vehicle.  Car spoilers come in a variety of materials including fiberglass, carbon fiber and sturdy plastic.  They are usually very easy to install and take a few hours max.  While most high performance racing spoilers are built specifically for a vehicle, there are universal spoilers available which fit a wide variety of makes and models.  Some spoilers even include additional accessories such as brake light or reflector.
For best results, choose a racing spoiler that fits your specific vehicle.  If your vehicle has a stock paint job, you may even be able to get the spoiler to match your car's color perfectly.  If not, most spoilers are easy to paint and install.  Spoilers range from a couple of hundred dollars to over a thousand dollars for exotic materials and spoilers for exotic sports vehicles.
Filed Under: General
Comments (1)
Leave a Reply
You must be logged in to post a comment.