By arman on Sep 07, 2009 with Comments 0
---
German tuner Brabus presents the world's fastest and most powerful luxury sedan. The high-performance automobile reaches a top speed of 340 km/h (211 mph). It is built based on the latest Mercedes S 600 facelift model and is powered by a BRABUS SV12 R Biturbo 750 twelve-cylinder engine with 750 hp (740 bhp) / 552 kW and a peak torque of 1,350 Nm (995 lb-ft).
The BRABUS SV12 R Biturbo 750 engine is a prime example for the old adage that nothing can replace displacement except more displacement. A special crankshaft with longer stroke, forged pistons with a larger diameter and an increased cylinder bore result in a displacement increase from standard 5.5 to now 6.3 liters (336 to 385 cu. in.). In addition the inlet and outlet ports of both cylinder heads are optimized for improved mixture flow. Four special camshafts also contribute to that same effect.
This extraordinary performance makes the BRABUS SV12 R not just the most powerful but also the fastest luxury sedan in the world: 0 – 100 km/h (62 mph) in 4.0 seconds, 200 km/h (124 mph) after just 11.9 seconds and an electronically limited top speed of 340 km/h (211 mph).
Power is transferred to the rear wheels via a modified five-speed automatic transmission. An optional BRABUS locking differential optimizes traction. All BRABUS powertrain components are operated exclusively with ARAL high-performance lubricants.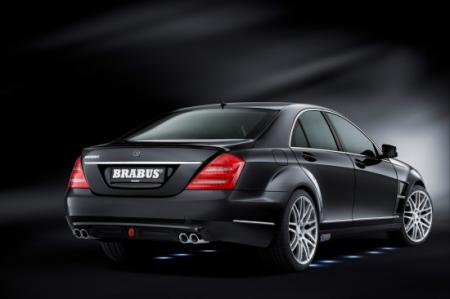 This enormous performance potential of the BRABUS SV12 R places the highest demands on the car's aerodynamic properties. The aerodynamic-enhancement components for the facelift generation of the Mercedes S-Class were designed from scratch. The BRABUS designers went into the wind tunnel to develop a striking front apron whose sophisticated shape reduces lift on the front axle. The large centrally located air duct optimizes the cooling of engine and front brakes. Integrated auxiliary headlights and LED daytime running lights further improve active safety.
The enormous performance of the BRABUS SV12 R is kept safely under control with custom-tailored solutions for tires, brakes and suspension. They include BRABUS Monoblock light-alloy wheels with diameters ranging from 17 to 21 inches.
The largest version features size 9Jx21 wheels on the front axle and size 10.5Jx21 in back. Customers can choose from three different designs: Three-piece forged and high-gloss polished BRABUS Monoblock VI wheels with six double spokes, Monoblock E multi-spoke wheels and the especially exclusive Monoblock F PLATINUM EDITION forged wheels with cross-spoke design. All versions are fitted with Pirelli or YOKOHAMA tires in size 265/30 ZR 21 in front and in size 295/30 ZR 21 on the rear axle.
Filed Under: Tuning
Comments (0)
Leave a Reply
You must be logged in to post a comment.