By Shenron on Nov 21, 2007 with Comments 4
---
In 1919 a man named Walter Owen Bentley founded an automobile manufacturer that also carried his name with it – Bentley motors.
Walter had been a well known innovator during the First World War, and came up with a solution to the vibration caused by early aircraft engines by pioneering the use of rotary engines in aircraft and manufacturing them. However, these engines also created a gyroscope-like effect and made handling somewhat more challenging for those who did not know how to maneuver their aircraft with it. In the late 20's and early 30's Bentley was acquired by Rolls Royce and thus they brought the Bentley lines into their manufacturing plants as highly desireable luxury vehicles that were some of the best in their respective classes, along with also being a very formidable power car used in races. Before Rolls Royce bought Bentley they raced many vehicles and were the champions of England for a time.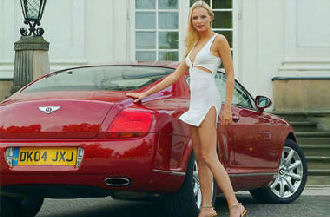 In the 80's Bentley started to break away from the Rolls Royce dominated lines and began to come about with their own higher performing vehicles and luxury vehicles. The most common of the Bentley lines during the RR era was likely their Continental which was seen in the 50's and 60's, then later in the 90's until the line was finished off in 2003. In 1998 a wind of change blew and Rolls Royce, along with Bentley, was acquired by Volkswagen after a bidding battle with BMW.
In more recent happenings the Bentley lines of vehicles have been selling very well with ever increasing demand for their high luxury convertibles, limousines, and at one point had a waiting list of over a year for their vehicles that were in such demand. At times they had to use two facilities to satisfy the demand and since then have upgraded their main facility in order to prevent the huge lines for cars they have seen in the past.
Further Readings:
Filed Under: General
Comments (4)
Leave a Reply
You must be logged in to post a comment.