By arman on Jul 16, 2011 with Comments 0
---
The Audi R8 V8 might seem a bit naive compared to the V10 version, but O.CT has just the kit to make it not equal, but more powerful than its sibling.
O.CT Tuning GmbH has applied mighty pressure to the rendering as standard already 420 hp engine by giving it a compressor kit. The actors are: at first, the "Black Compressor" with CNC mastered aluminum holding system, tension pulley made by Good Year, custom made suction system, inner overflow-overpressure-system, crank case with vent system and a modified set of toothed belts.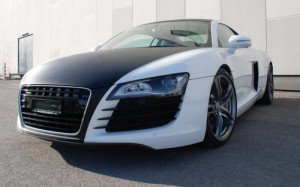 The V10 R8 makes 525 hp, but this R8 V8 by O.CT generates 565 horses and 560 newton meters. How about that!
All this performance makes the sprint from standing up to 60 m/h another just 0.7 seconds faster than the serial version does! From 0 up to 250 km/h (155 m/h) this means a lead of legendary 120 R8 car lengths or nearly 10 seconds (250 km/h is reached within only 24 seconds).
In term of looks, while the body remain standard, the tuner offers high quality complete vehicle film fitting.
Filed Under: Tuning
Comments (0)
Leave a Reply
You must be logged in to post a comment.