By Shenron on Jan 13, 2009 with Comments 0
---
Described as an executive luxury car, the Audi A6 certainly is an impressive vehicle with a lot positive points, and a history dating back to the 1960s and the first Audi 100. Also known as the C5, and Audi A6 was first released in 1995 with an Italian designed body and low coefficient drag.
Much larger than other popular Audi models, the A6 is also a very heavy car that owes it's engineers a debt of gratitude for producing a vehicle that is still an impressive performer in all conditions, especially the quattro variant with all wheel drive.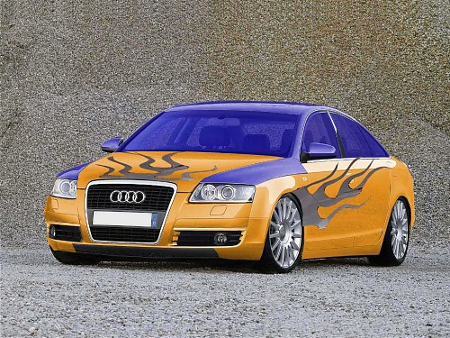 Engine specifications range from four cylinder to six cylinder and rated output from 99hp to 190hp, not exactly stellar performance, but with modifications and expert tuning, the base engine is capable of greatly improved performance.
Due to it's weight, the Audi A6 benefits from replacing heavy components with lighter weight carbon fiber components, and the easiest way to do this, although not necessarily the cheapest, is to add an extensive body kit and replace items like the hood (bonnet).
Regular servicing and tuning make the Audi A6 a delight to own and drive, but be aware that not following the manufacturers advice on servicing will lead to problems because the A6 is a highly engineered car that needs to be properly maintained.
In particular the Audi A6 is known for cam seal leaks and these need to be checked or replaced, especially if tuning for performance is done. Be aware that remaps boost performance considerably and it would be worth the time and money to get your custom workshop to check the seals while they have the car.
Remapped tuning is most effective on the diesel turbo variant of the Audi A6 and can boost performance by as much as 20-50% over factory defaults. Be sure to find an authorized service center or highly recommended mod workshop so you don't end up paying more in the long run.
After remapping, the Audi A6 really benefits from replacing the diverter valve for a stronger model otherwise increased performance might degrade the valve leading to cracks.
At the same time, consider replacing the flywheel with a lighter and stronger version as part of your tuning and performance upgrade. Whilst the flywheel shipped with the Audi A6 is suitable for the task, it is also much heavier, requiring more of the engine's power to turn, and a lighter model will be quite noticeable.
Brakes on the Audi A6 are a recurring source of frustration for many enthusiast drivers who complain for frequent machining or replacement, however after market performance brake components should eliminate this problem and are certain to improve safety in a heavy vehicle with performance tuning mods on board.
Generally, reviews of the suspension in the Audi A6 have been favorable, and adjusting the damping by increasing resistance to fluid flow in the shock absorbers may be all that is required to give a firmer ride. New springs and bushes to race spec probably aren't a great investment when tuning an Audi A6, although bushes and mounts in the A6 need to be replaced as part of the regular service regime so replacing them can be done then.
Learn more about Audi A6 Tuning.
Further Readings:
Filed Under: General
Comments (0)
Leave a Reply
You must be logged in to post a comment.