By Justin on Sep 23, 2008 with Comments 0
---
The Mazda RX8 comes from one of the great molds of vehicles that Mazda ever produced- the RX7. While the RX8 offers plenty of power, performance and is quite affordable, for most it will never touch the heights that the RX7 has. The 2009 Mazda RX8 offers a rotary engine which for tuning enthusiasts is not only more reliable, but more efficient at producing power. On the Mazda RX8, you can choose to have a 232 horse power 1.3 liter engine and a manual transmission (6 speed) or a 212 horsepower 1.3 liter with a six speed sport A/T transmission.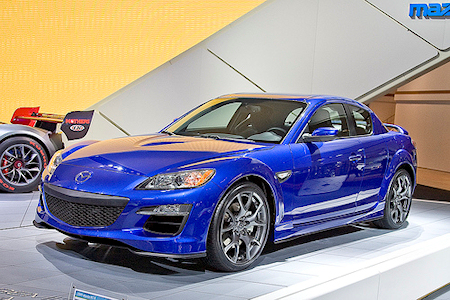 While offering very peppy performance, the 2009 Mazda RX8 is similar with past models which were launched starting in the year 2003. Many of the changes for the 2009 year are aesthetics, however the RX8 does offer a new R3 sport package. The R3 does add lots of sporty performance and will remind many Mazda RX7 enthusiasts of older R1 and R2 packages of yesteryear. Besides offering a rotary engine, the R3 offers sport tuned suspension, Bilstein shock absorbers and a urethane foam filled crosmembers on the front suspension. This not only adds for a smoother ride, but for greater control.
Besides great performance, the R3 offers a nicely designed rear spoiler, fog lights, side sills and an overall aggressive appearance. Inside, you will find plenty comforts including a great audio system, nicely styled sport leather seats, leather trim and keyless entry. The 2009 Mazda RX8 is not only sporty, but economical when it comes to fuel economy. Expect to get about 24 miles to the gallon on the highway and about 5 or 6 less in the city. The MSRP for the 2009 RX8 is about $25K for the entry models and $32K for the R3 making both performance and good looks budget friendly for many car tuning enthusiasts.
Further Readings:
Filed Under: General
Comments (0)
Leave a Reply
You must be logged in to post a comment.