By Justin on Oct 08, 2008 with Comments 0
---
For those looking for a car that is incredibly fun to drive and that looks great, one that definitely will turn heads is the Honda S2000 roadster.  The Honda S2000 roadster has been around for several years and has definitely made quite a reputation for itself.  With classic sport looks, a very comfortable interior and plenty of pep under the hood it is no wonder that the Honda S2000 continues to shine.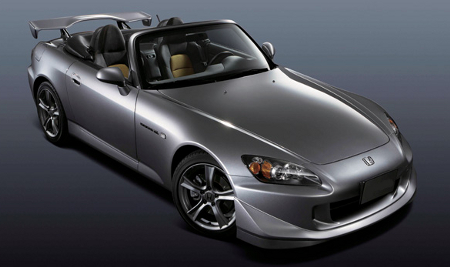 2009 Honda S2000 Offers Plenty of Performance
One of the reasons that the Honda S2000 continues to be top rated year after year in the convertible roadster class is that while many manufacturers now make roadsters, few ensure that there is enough power and performance under the hood to close the sale.  This vehicle definitely closes the sale and for most drivers, the amount of power will definitely be satisfying.  The Honda S2000 offers 3 trims for the 2009 model.  This includes the Honda S2000, Honda CR S2000 with air and the Honda CR S2000 without air.  It should be noted that all trim levels include the same engine and performance.
2009 Honda S2000 Specs
As stated above all trims have the same engine a 4 cylinder 2.2 liter VTEC that delivers a powerful 237 horsepower and some decent gas mileage at 25 miles per gallon on the highway and 18 in the city.  In addition, the roadster driving experience is enhanced with rear wheel drive and a 6 speed manual transmission.  The S2000 has a comfortable interior with pretty much all a driver needs to be comfortable and safe.  Obviously, the 2009 Honda S2000 is best as a second or third car.  The price is a little more than other roadsters including the Mazda Miata and Pontiac Solstice.  The S2000 ranges in price from $35K to 38K.
Filed Under: General
Comments (0)
Leave a Reply
You must be logged in to post a comment.