By Shenron on May 23, 2008 with Comments 1
---
Many times, especially during longer commutes and driving vacations, we've all wished we had a little something extra on board our vehicles that would provide some much needed entertainment value. This is true if it aimed at the driver or the passengers. A more entertaining drive can make any trip more bearable. With all of the new technology in the world today, there isn't a problem finding something to add to your current vehicle to succeed in this department. Whether it is for your own enjoyment, the enjoyment of your passengers, or the intended preoccupation of your children, in car DVD systems are a great addition to almost any vehicle. But different systems have different options and here are a few things to think about regarding in car DVD systems.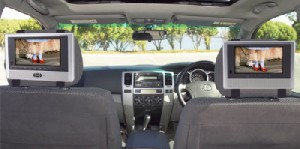 When it comes to the mounting of your DVD player, there are a number of options. You can have a DVD player mounted in your dash, but the location is still variable. The DVD player can be mounted on the passenger side or in the center of the console. The DVD can also be mounted as a flip down module near or in place of the sun visor as well as a flip out unit from the car door itself. In the back seat there are a number of mounting options as well. A popular location for the DVD player to be mounted in is the head rests of the front seat. This places them roughly at eye level for the backseat passengers. They can also be mounted in flip down situations from the ceiling and flip out from the door like the above mentioned front seat options. A third primary location for an in car DVD system is in the trunk. This is rarely done, but when it is it usually involves a larger almost home size screen. This is meant for opening the trunk and watching from a chair outside of the car.

Controlling the DVD player also comes with a number of options. You can have a remote control so that you are not reaching for the DVD player itself to control it. This is also helpful for backseat DVD players that are intended for children's viewing pleasure. You can also have standard buttons or touch screen controls. Touch screen options are convenient if the DVD player is going to accessed or controlled by the driver.
The options that a DVD player comes with are also something that should be considered before purchasing the unit itself. If you already use a USB device for music storage, you may want to select a DVD unit that is USB compatible. There are also DVDs that are more IPOD friendly and come with cool interactive features that may be of interest to you.
All in car DVD players are not created equal and you should explore all your options before deciding on how many screens you want, where you want them located, how they should be controlled, and what types of functions they can provide. Once you are armed with all the information you need, then and only then will you be one hundred percent prepared to purchase the in car DVD player that is perfect for your situation.
Filed Under: General
Comments (1)
Leave a Reply
You must be logged in to post a comment.