By Justin on Dec 12, 2008 with Comments 0
---
While we all love exotic sports cars, many of us will never be able to afford them.  And while there is no shame in this fact, there are plenty of vehicles that are manufactured each year that not only fit into most car enthusiast's budgets, but also deliver a lot of bang for the buck.  The Nissan Altima 3.5 SE Coupe is one such car.  The Altima has always been a budget friendly vehicle that delivers great styling and some peppy performance, the 3.5 SE Coupe is no exception and well worth many car enthusiast's consideration.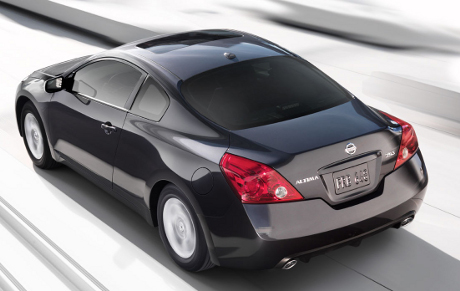 Plenty of Performance
Under the hood, you will be pleasantly surprised to find a very nice and powerful engine.  The Nissan 3.5 SE Coupe has a 3.5 V6 engine that delivers 270 horsepower which is more than enough for most people when commuting back and forth to work, as well as additional bang for when you want to enjoy driving.  Matched with the engine, you have a choice of either a 6 speed manual transmission or a continuously variable automatic transmission.
Handling of the 3.5 SE Coupe
The Nissan Altima 3.5 SE Coupe is quite agile and performs very nicely on the open road.  With all season radials, the tires grip the road well and the engine offers plenty of thrust and a very nice ride to ensure its sporty nature.
The Interior
While the exterior is nice and sporty and slightly similar to the shape of the G35, the interior is definitely done well.  With better materials and layout, the Altima's interior is much better than the previous generation.  You will find plenty of bright gauges and the entire console is easy to use and operate.  In addition, seating was comfortable and even getting to the back seat was pretty easy, considering it is a coupe.  For those that are looking for a sporty alternative to the sedan, the coupe is definitely a great vehicle.
Further Readings:
Filed Under: General
Comments (0)
Leave a Reply
You must be logged in to post a comment.