By arman on Mar 19, 2010 with Comments 0
---
Roush Performance, maker of some of the finest tuned Mustangs in the history, has teamed up with Barrett-Jackson Collector Car Auction to present a limited edition Mustang.
This awesome Mustang comes with a massive ROUSH bodykit finished in "Back in Black" metallic paint with "Red Hot Chili Pepper" stripes. Under the hood it gets a R2300 ROUSH supercharger unit to help its V8 develop 540 horsepower and 510 lb.-ft. of torque.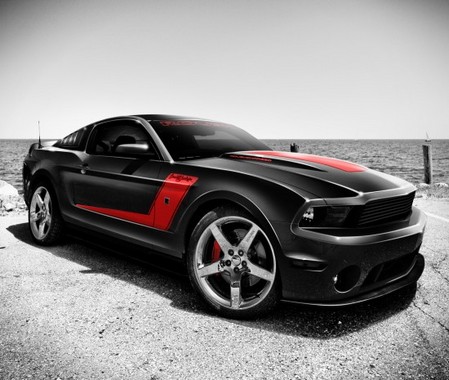 As it's the case with ROUSH, the car is fitted with sophisticated suspension and 20-inch wheels with Cooper RS3, so it also handles properly. They will produce 25 units of this vehicle based on the 2010 model and late on, 25 more units based on the new 2011 model.
So you know where to go if you want to buy one of these, don't you?!
Filed Under: Tuning
Comments (0)
Leave a Reply
You must be logged in to post a comment.