By arman on Oct 18, 2010 with Comments 0
---
Hyundai and RMR (Rhys  Millen Racing) are expanding business. The first sign of this is the new RMR-tuned Hyundai Equus to be revealed at the 2010 SEMA show.
Even though Equus is a super-lux sedan, RMR decided to give it a treatment more suitable for the sporty Genesis Coupe.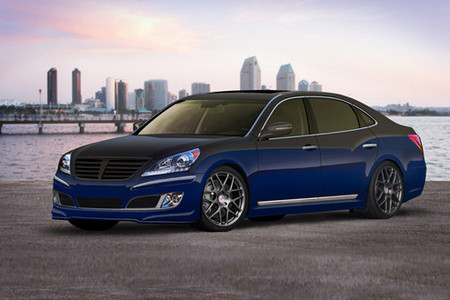 So it gets two-tone carbon fiber and Red Bull Racing blue satin clear paint by BASF and HRE 21-inch P40 wheels will appropriately round out the exterior, and garnished with carbon mirrors, and front chin and rear deck spoilers.
As for the interior and engine, you get RMR Signature Edition embroidered headrests and floor mats, and ostrich hide leather seats with suede accents, and 415 bhp.
Further Readings:
Filed Under: Tuning
Comments (0)
Leave a Reply
You must be logged in to post a comment.