By arman on Nov 26, 2009 with Comments 0
---
OK, here's another overpowered tuned Porsche 911 with way more than 800 horsepower which begs the question, if that flat-six engine has so much potential, why in the world the company release it with only 500, 550 hp?!
This one is based on the 997 GT2 model, and it's called the GT2 Speed.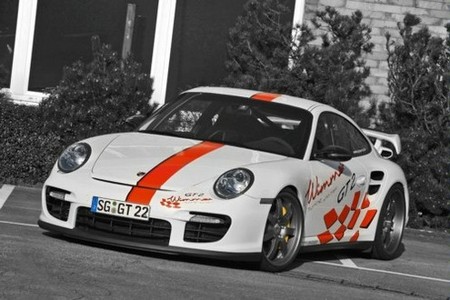 The car features a Bi-Turbo Power Package, in which deep modifications have been done to the engine block, pistons, piston rods, injection nozzles, sports camshafts, inlet system, and throttle valve. Needless to say to say that Wimmer has installed their own version of larger turbochargers.
So they managed to get 827 hp and 948 Nm of torque out of that compact engine! This huge power translates into 0-100 km/h sprint in 3.38 seconds and top speed of 378 km/h. Crikey!
Wimmer GT2 Speed is equipped with H&R suspension and 20-inch Sportec rims wrapped in Dunlop Sport Maxx GT tires. The body of the car is also styled with carbon fiber mirrors, spoiler lip and rear wing.
The price of this insane Porsche is €281,000.
Further Readings:
Filed Under: Tuning
Comments (0)
Leave a Reply
You must be logged in to post a comment.