By arman on Jan 13, 2010 with Comments 0
---
Unlike the irreplaceable Peugeot 206 which was the baby of tuners, its replacement, the 207, did not receive a warm welcome from the aftermarket crowd!
Here's one of the few official tuning jobs done for this car, and it desperately wants to grab your attention! It's even got LSD doors!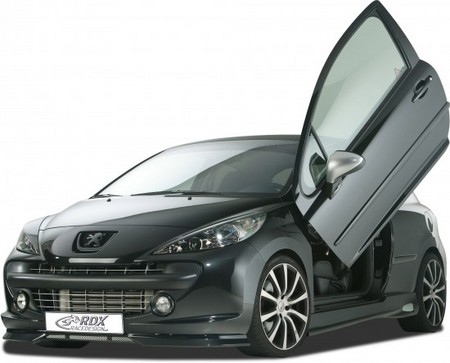 Created by RDX Racedesign, this body kit consists of a modified bumpers with spoiler lip at front and a big diffuser with quad integrated tailpipes at the back. This parts can be installed on the factory standard bumpers. The front headlights have now a cute blend on them, while the rear ones come with a sportier graphic. You also get sporty side skirts.
This kit can be had on all variants of Peugeot 207 including the CC model. The hatchback models also get a roof spoiler.
Further Readings:
Filed Under: Tuning
Comments (0)
Leave a Reply
You must be logged in to post a comment.