By Justin on Nov 28, 2008 with Comments 0
---
Mercedes Benz does it again with their 2009 SL63 AMG.  Many enthusiasts might recognize that the SL63 AMG is replacing last years SL53 and while this vehicle only adds a few horsepower over the SL53, plenty has changed to make car lovers take note.  The Mercedes Benz SL63 AMG is one of the most thrilling vehicles every produced by this car company and while it has a huge price tag, in many ways it is well worth it.  The basic body design of the SL63 AMG is a convertible coupe that comes with a nicely designed hard top.  This vehicle is on the very large size, not in form necessarily, but in weight coming in at over 4,400 lbs.  While you won't lose performance on the weight issue- forget about gas mileage as this vehicle is very, very thirsty.  The body has been remodeled from the SL53 and it is easy to see the new lights, single grill and other body features that update and make this car very attractive.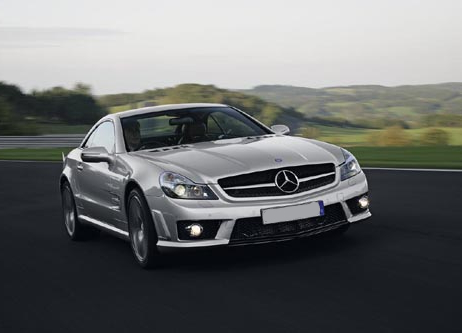 Mercedes Benz SL63 AMG Tech Specs
Well the SL63 AMG definitely does not disappoint.  You will find a wonderful 6.2 liter V8 that by the way is hand built.  This huge engine delivers a very powerful 518 horsepower with 416 lbs of torque.  To get the most of this vehicles performance, you will also find a nicely done 7 speed multi clutch transmission with paddle shift on the steering wheel to zoom through the gears in record time.  In fact, this vehicle's transmission doesn't even have a torque converter, instead it utilizes an 8 plate clutch back.
Regarding the interior, all the amenities and nice leather cabin is included.  In addition, it only takes a few seconds for the hard top to retract and become a convertible.  So how much does it cost to drive one of the best AMG models ever made- with plenty of amenities the SL63 AMG comes in at about $160,000.
Further Readings:
Filed Under: General
Comments (0)
Leave a Reply
You must be logged in to post a comment.