By Shenron on Jul 13, 2008 with Comments 1
---
Mazda is one of the older Japanese automakers and it has built a well deserved reputation as a builder of quality economical cars and trucks. Mazda vehicles are known both for their high level of performance as well as their modern look and features. The Mazda car company was founded in 1920 and went through a number of changes over the years, including being a major manufacturer of weapons during World War II, before emerging as one of the more unique and highly respected car companies in the world. But, here are five things you may not know about Mazda.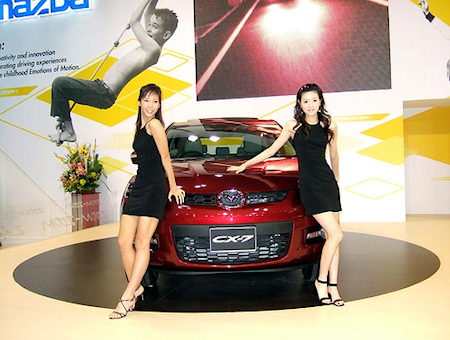 From 1991 through 1994, Mazda marketed an SUV called the Mazda Navajo that was essentially a Ford Explorer. The Navajo sold so poorly that it only lasted four years while the Explorer went on to enjoy a ten year run as the most popular SUV in America.
The famous "Zoom Zoom Zoom" song that has appeared in Mazda television commercials since 2000, first appeared in the 1993 movie Only The Strong, a film about the little known Afro-Brazilian martial art known as Capoeira.
When Henry Wallace became the head of Mazda in 1996, it was the first time a foreign born person had ever been named to head a Japanese car company.
Mazda is not only the main producer of automobiles that utilize the Wankel rotary engine, it is the only major automobile manufacturer to ever produce a rotary engine powered pickup truck, station wagon, and bus.
The original name of the Mazda car company at the time of its founding was Toyo Cork Kogyo, Ltd.
With its commitment to originality and the fact that it is sought after by performance car enthusiasts every where, Mazda has set itself up to be one of the more popular car companies for years to come. Mazda has developed a reputation as one of the more creative car manufacturing companies that is not afraid to try something new. This has paid off well over the long run of the company's existence as it has endeared itself to car owners who crave something that they cannot get from other manufacturers. The Mazda company will continue to enjoy its lofty place in the automobile manufacturing hierarchy as long as it sticks to these ideals.
Further Readings:
Filed Under: General
Comments (1)
Leave a Reply
You must be logged in to post a comment.