By arman on Nov 11, 2009 with Comments 0
---
For whatever reason they have thought of, Porsche tuner Gemballa decided to fit all automatic Cayenne models with a F1 steering wheel which comes with paddle shifters.
They are good of course, but on a sports car, not a big SUV!
Measuring only 365 millimetres in diameter and an ergonomic shape for extra grip, it is most suitable for dynamic drivers. For the extra amount motor sports feeling, GEMBALLA practicably placed F1 rocker switches in the classical switch scheme behind the steering wheel rim – up right and down left. An integrated full size airbag guarantees the accustomed safety.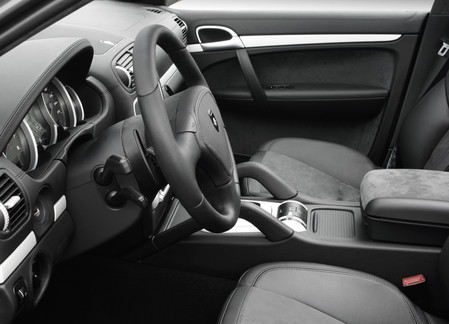 The new steering wheel also features a 3-spoke design so it won't mess with the Cayenne's interior design.
Gemballa also garnishes this wheel with airbag, – pot and hub with leather and if desired they combine it with carbon segments. Harmonically added horn keys and the black anodised rocker switches perfect the high-quality overall impression.
Gemballa F1 Steering wheel for Porsche Cayenne automatic has TUV standard ans starts from from € 1,680.
Further Readings:
Filed Under: Tuning
Comments (0)
Leave a Reply
You must be logged in to post a comment.