By Shenron on Mar 28, 2008 with Comments 5
---
The Regal King of the Road
The latest 2008 Ford Shelby Mustang GT 500 KR "King of the Road" conquers the spotlight with a big bang. It is set to be released on the market this spring 2008. There will only be 1,000 limited models in production to commemorate the 40th anniversary of the 1968 original Shelby Cobra GT 500 KR. The hit TV show 2008 movie "Knight Rider" will feature it as its new KITT replacing the classic Pontiac as confirmed by NBC. It did not come as a big surprise to many. After it was unveiled at the 2007 New York International Auto Show, it already made a headline as the new Mustang obsession of the town.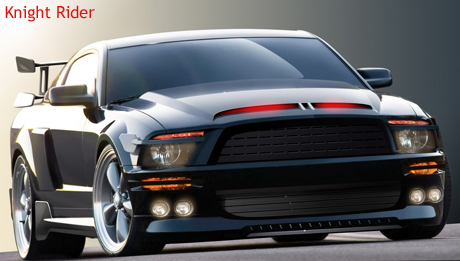 There is too much to say about this highbred KR model from the GT 500 design to featured technology systems and optional upgrades. I decided to categorize its outstanding features into 4 groups – Power and Performance, Exterior, Interior, and Safety. These elements define the legendary performance that the Mustang family is truly known for.
Power & Performance
What is a Mustang without an amazing feat of its power and control? The 2008 Shelby GT 500 KR edition is a product of Ford and Shelby Automobiles' continuous drive to performance excellence. A lot of modifications and unbelievable feats were added to this magnificent engine.
A supercharge 5.4-liter V8 boosting 540 horsepower and 510 lbs-ft. of torque. This is the most powerful in the Mustang line as it packs 40 more horses.
Tremec TR6060 6-speed manual transmission featuring an enhanced rear differential of 3.73
Ford Racing Power Upgrade Pack – improved ignition and throttle calibration and cold air intake technology
Vented 14-inch Brembo front brakes provided with a pair of chrome-trimmed cooling ducts.
P255/45ZR18 front and P285/40ZR18 performance tires
Exterior
Inspired by the classic 1967-68 Mustangs, the new "Knight Rider" icon features 40th anniversary badges, the prominent Cobra logo, racing stripes, Carroll Shelby signature and more. It is a sure killer machine once you set your eyes on it.
Distinctive hood providing air and heat extractors
An archetypal Le Mans-style over-the-top sporting and GT 500 KR body side stripes
Front and rear fascia modifications to reminisce the classic GT 500
Updated Cobra emblem giving a more distinguishing exterior
Interior
Feel the power and experience the performance. The outer shell may have taken your breath away but the real deal is when you sit back, maneuver the wheel, sense the interiors and drive all the way. You will never feel the same way when you come head to head with 2008 Shelby Ford Mustang GT 500 KR's classic and elegant core designs.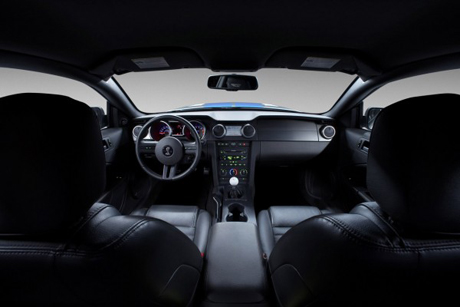 Shelby GT 500 writing and the Cobra symbol on the wheel cap
All leather seating spaces marked with the snake logo
Modified aluminum shift lever knob giving speedy shifts
50/50 split-fold rear seat backs for convenience
Power windows with defroster
Power side and day/night mirrors
Gauges and controls put on light settings inspired by the SVT tradition
Security
A perfect ride is one that is fun, and of course safe. The 2008 Ford Shelby Mustang GT 500 KR never goes wrong with its safety and security features. Every member of the family will certainly not forget their experience with this amazing machine in full safety.
Protected 3-point lap-shoulder safety belts providing secured trip for Mustang passengers
Innovative SecuriLockTM Passive Anti-Theft System (PATS)
Lower Anchors and Tethers for Child safety seats (LATCH) technology
Intrusion beam on side doors for effective protection
Integrated Traction Control and anti-locking brake system
The specifications and various features mentioned on each category are just some of the highlights worth mentioning. So much have been said and written about the newest Shelby GT 500 KR but one thing is apparent, the Ford and Shelby Automobiles emerged as dedicated and committed people in what they do best.
The year 2008 is in no doubt another historical mile for the Mustang collection not to mention that the newest Bullitt model is to be unveiled soon. If you have the craving for power, speed, security, control, and style then the 2008 Ford Shelby Mustang GT 500 KR is the way to go.
Do you like it?
Further Readings:
Filed Under: General
Comments (5)
Leave a Reply
You must be logged in to post a comment.